Chim↑Pom from Smappa!Group
Side Trip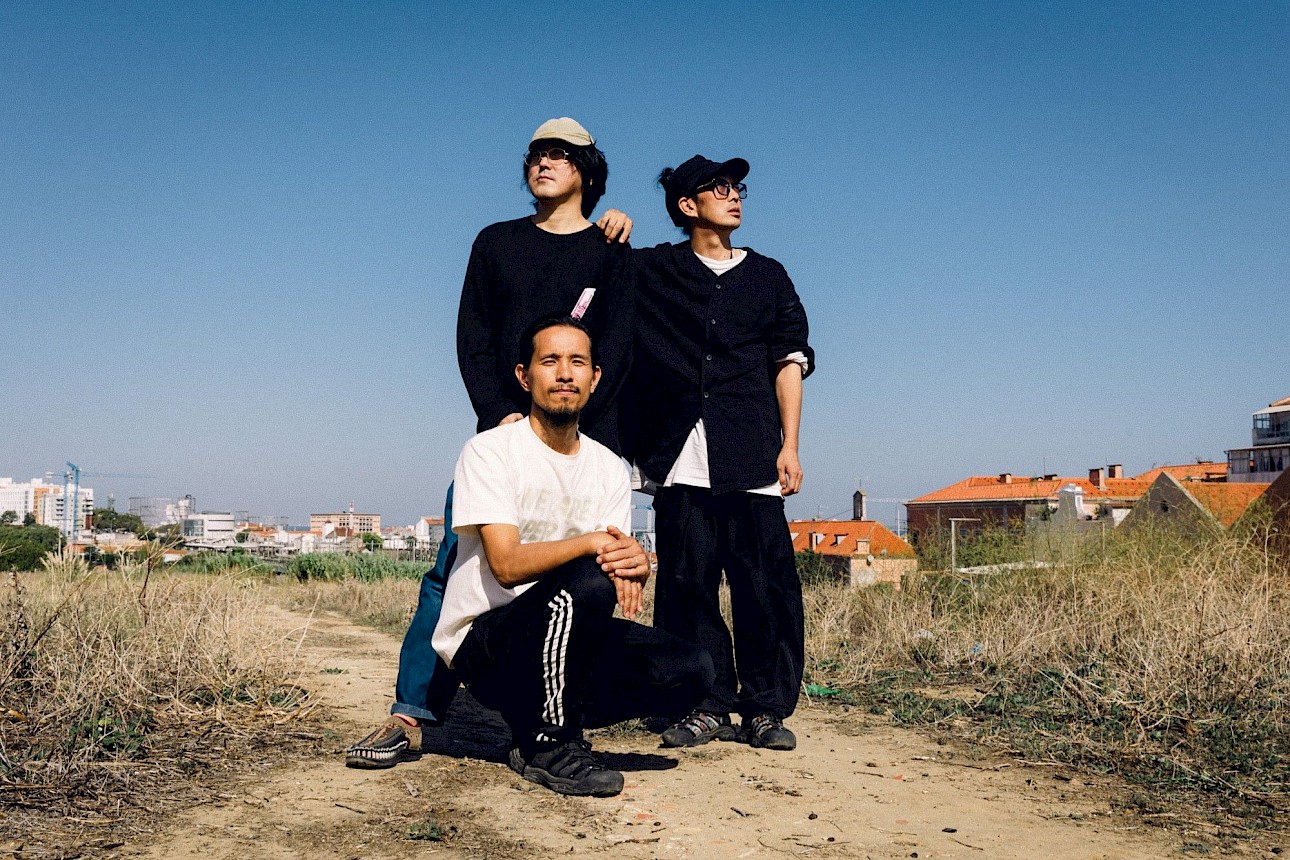 11.11 — 19.11 2023
Performances
Side Trip a space for block parties, to celebrate and build new futures.
Side Trip is a space for neighborhood celebrations, aimed at both commemorating and building new futures. Integrated into the Engawa – Season of Japanese Contemporary Art at CAM and part of the Alkantara Festival 2023 programme, the intervention Side Trip establishes a temporary celebration space in an abandoned area in Azinhaga dos Alfinetes, Marvila, Lisbon.

Conceived by the Japanese collective Chim↑Pom from Smappa!Group, Side Trip is structured around a provisional street that culminates in a square. At the center of this square stands a tower - a "Yagura" - reminiscent of Bon Odori celebrations, neighborhood festivities in Japan dedicated to honoring the deceased and rituals of transformation.

The program features concerts, performances, food competitions, a chestnut roasting event, a local market, food trucks, as well as workshops and seminars
11 NOV

Magusto with roasted chestnuts and jeropiga
With the community group 4Crescente
17H-19H

Live music and DJ sets with food trucks
Curated by Chelas é o Sítio (as part og the Festival Armador Kriativu)
with DJ Slick, C Jay, G Fema
19H-22H
---

12 NOV

Workshops and free activities
Cultivar Futuro workshop (Serve the City)
Recycling plastic workshop (PRODAC, Santa casa da Misericórdia)
11H-17H30

Street Market
With stalls run by residents of Armador, Flamenga, Marquês de Abrantes, Alfinetes and Salgadas neighbourhoods
12H-21H

Cachupa Competition
by Marvila cooks, as part of Festival Armador Kriativu
13H-15H

Lab "What's in a name?"
Participatory action to reflect on and collect possible names for the new Urban Park
15H30-18H

Live music and DJ sets with food trucks
Curated by Chelas é o Sítio (as part og the Festival Armador Kriativu)
with DJ Slick, Rato Chinês, Beats & Mix by young artists, Gohu
18H-22H
---

18 NOV


Breaking battle
In partnership with Dedicated
14H-18H30


Workshops
Cultivar Futuros Workshop (Serve the City): building birds nests and insects hotels
Ciclopes Workshop (in partnership with Kriativu): repairing bicyles
14H-17H
---

19 NOV

Community lunch and closing
With Cachupas by:
D. Amélia Mascarenhas (Ajuda neighourhood) — Winner of Cachupa Competition 2023
Motomu Inaoka, (Chim↑Pom from Smappa!Group) — Honorable mention of Cachupa Competition 2023
13H-16H
About the project
In 2018, the community group 4Crescente submitted a proposal to the Participatory Budget for the construction of a park, which was rejected. At that time, the council had different plans for the land. Despite this initial refusal, the group did not give up the fight, and in 2019, the construction of this new urban park was approved, set to regenerate an area of over seven hectares near the train line.

It is this victory that Side Trip shares and celebrates, anticipating conviviality in this future park and inviting residents from other neighborhoods in Marvila and the rest of the city of Lisbon to occupy this space.

In the past, also in an exploration of how public spaces are experienced, in 2017-2018, the collective Chim↑Pom from Smappa!Group had already developed the project 道(street), creating a street that connected the interior of the National Museum of Fine Arts of Taiwan with the outdoor garden and the adjacent public street. Conceived as part of the "Asian Art Biennale 2017," this project was partially inspired by the history of the students of the Sunflower Movement who occupied the Legislative Yuan (Parliament), where the street connected the museum's interior and the Legislative Yuan. The project, with the potential for protest and complicity, questioned how public the space of a national museum is. This 道(street) was neither a public road nor a national museum but an alternative public space.


The Side Trip programme is developed in collaboration with the 4Crescente community group and various local communities. It is also noteworthy for its partnership with the Kriativu association, which brings its Armador Kriativu Festival to Side Trip, curated by Chelas é o Sítio.
Credits
Project created by Chim↑Pom from Smappa!Group (Ryuta Ushiro, Yasutaka Hayashi, Ellie, Masataka Okada, Motomu Inaoka & Toshinori Mizuno) In collaboration with Associação Kriativu - Festival Armador Kriativu, Chelas é o Sítio, Grupo Comunitário 4Crescente Executive production Francisca Aires (CAM – Centro de Arte Moderna Gulbenkian), Joana Costa Santos e Sinara Suzin (Alkantara) Techinal Coordinator Cárin Geada Interpreter Hibiki Mizuno, Rebeca Gomes e Yumi Shimizu Urban Consultants ETC - Projects Chim↑Pom from Smappa!Group Gallery ANOMALY Coprodution Alkantara & CAM – Centro de Arte Moderna Gulbenkian Supported by Bibliotecas Municipais de Lisboa - BLX, Câmara Municipal de Lisboa - CML, VIC Properties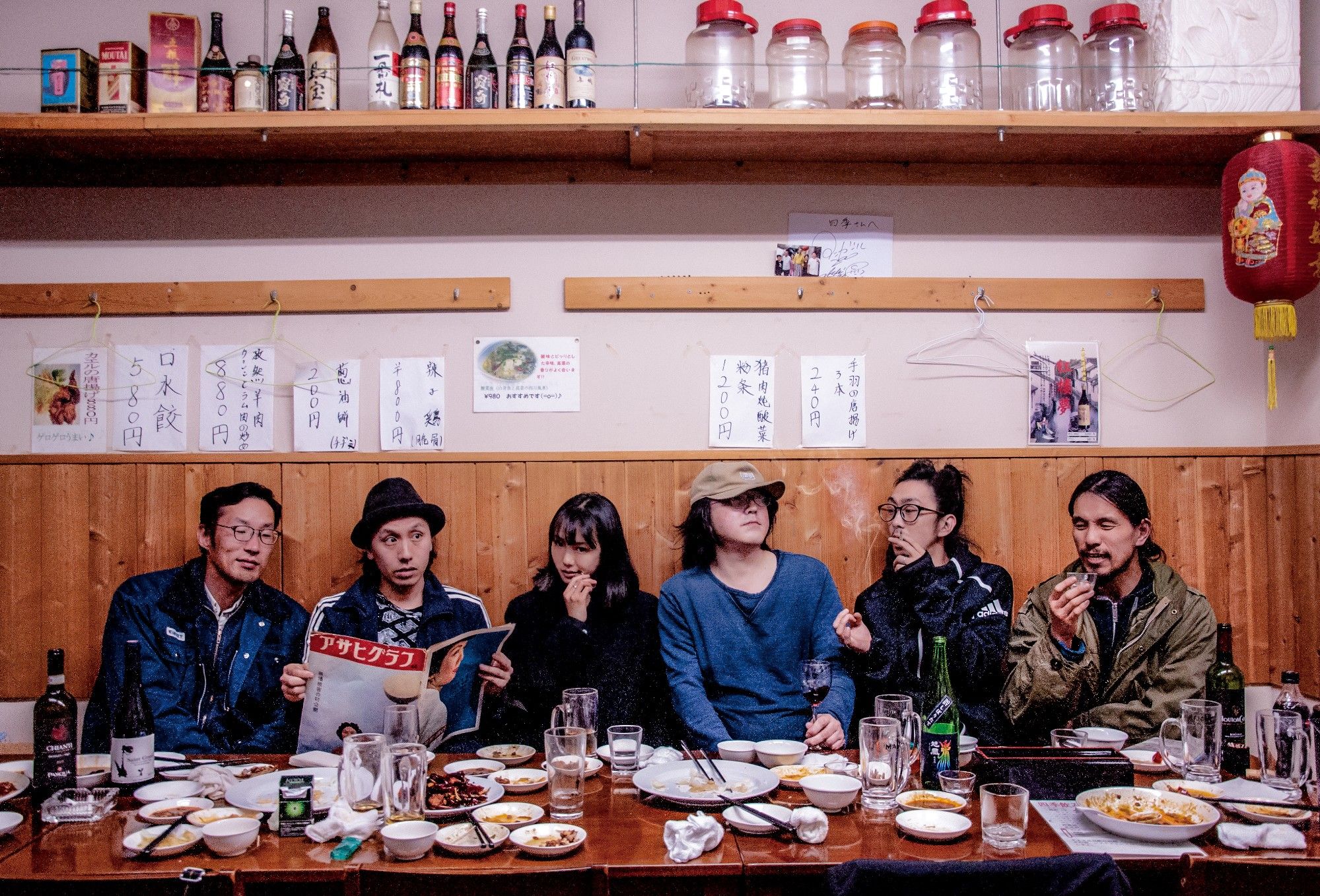 Chim↑Pom from Smappa!Group
Known as 'the subversive face of the Japanese contemporary art scene,' the Chim↑Pom collective was created in Tokyo in 2005 by Ryuta Ushiro, Yasutaka Hayashi, Ellie, Masataka Okada, Motomu Inaoka, and Toshinori Mizuno. In 2016, the collective created the international long-term exhibition Don't follow the wind in the restricted Fukushima Exclusion Zone and opened Garter gallery in Tokyo, a space run by artists to select and present works by their contemporaries. In 2022, the artists presented they presented their first retrospective at the Mori Art...