humusidades
E lá no fundo o que é que tem?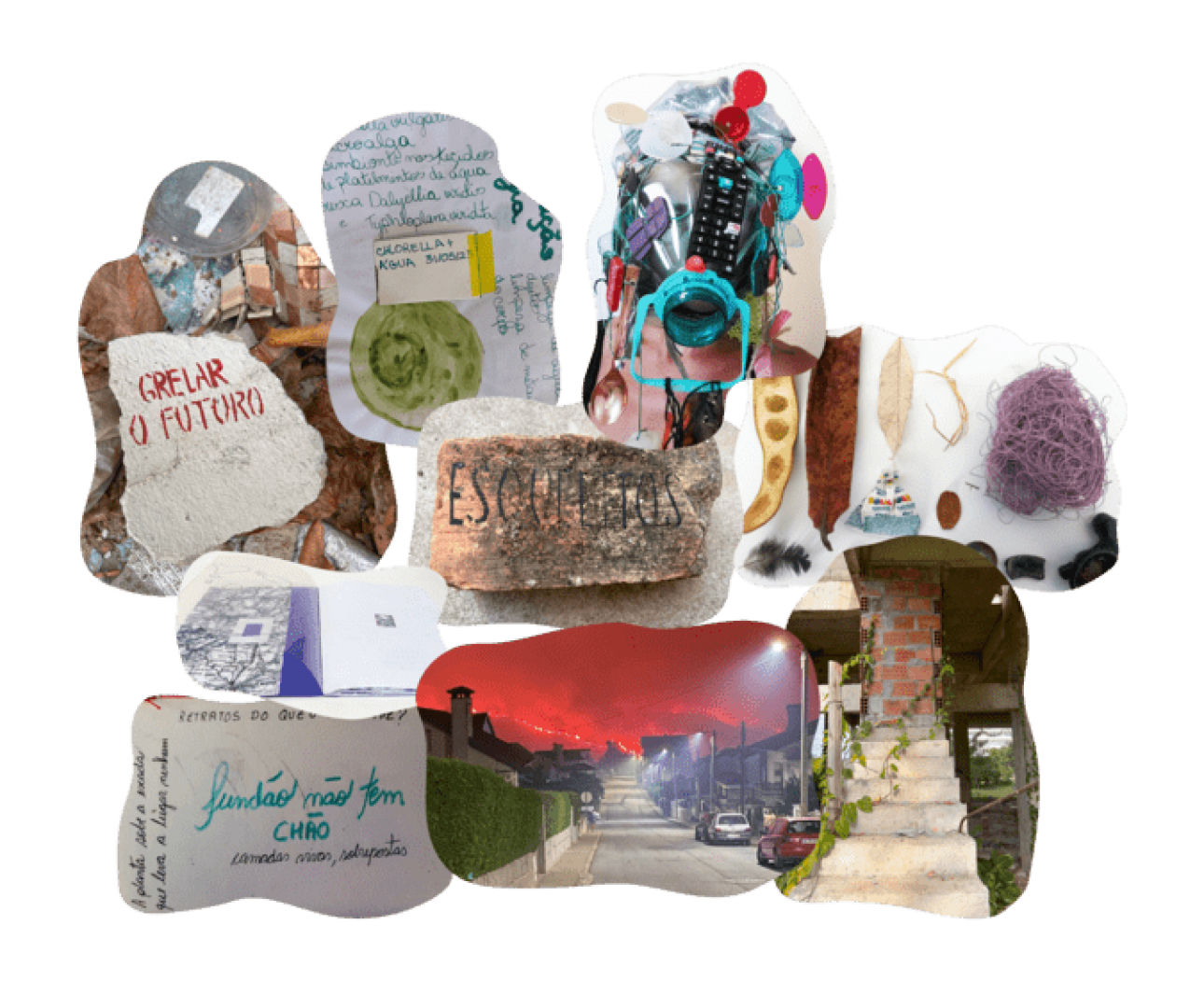 11.11 — 14.11 2023
Earthways
In Portuguese with simultaneous translation into English
Installation, publication and talks
The results of a collective process of re-founding and imagining shelters for habitability.

Motivated by a shared curiosity about two homonymous places separated by the Atlantic Ocean – the island of Fundão, in Rio de Janeiro, and the city of Fundão in Portugal – 30 people from the two countries participated in a collective research project. Starting with different meanings of the word "Fundão" (the deepest part of a river or lowest part of a valley, for example), we speculated about other possible "Fundões" as an alternative for regeneration and as a refuge for habitability. The result of this process is the card game Refundão and an arts installation resulting from the works generated in the collective process.

humusidades
E lá no fundo o que é que tem?
Talk
12.11 21h

A presentation of the process that led to the creation of speculative fabulations about different places called "Fundão", developed by 30 artists and researchers between May and September 2023. With Zoy Anastassakis, Äline Besourö, and Ísis Daou.
Conversation-game Refundão I and Refundão II
Post-show talks
13.11 21h
14.11 20h

Using the deck of cards developed in the E lá no fundo o que é que tem? project, we propose a game of exchanges and conversation on themes that emerge from the images, with guest artists. On Monday (13.11), artists Alina Ruiz Folini and Teresa Castro and activist Rafaela Aleixo are invited to play; on Tuesday (14.11), the game is activated by artists Rita Natálio and Pablo Quiroga Devia.
Credits
Coordenação humusidades Zoy Anastassakis Communication and management humusidades Ísis Daou Artista convidada Äline Besourö Project participants Ana Paula Lourenço da Silva, Audrei Carvalho, Carlos Calenti, Caroline Maldaner Jacobi, Celvio Derbi Casal, Clarice Rito Plotkowski, Deborah Brum, Elis Rigoni, Fabio De Almeida, Fernanda Haskel, Gabriel Martucci, Gabriela Gomes do Amaral Silva, Gabrielly Merlo de Souza, Guillherme Barbosa Ferreira, Hyldalice de Andrade Marques, Laís Balduino, Laura Landau, Lia Maestrelli Bizzo (Lia Brasil), Lucia de Fatima Dinelli Estevinho, Marcia Regina dos Santos, Mariana Paraizo, Mariana Smith, marta jourdan, Orlando Vieira Francisco, Paula Mendes Lacerda, Rafaela Aleixo, Rodrigo Hull Loyola, Sofia Mussolin e Suzana Rievers Buccalo