Milo Rau/NTGent & MST
Antigone in the Amazon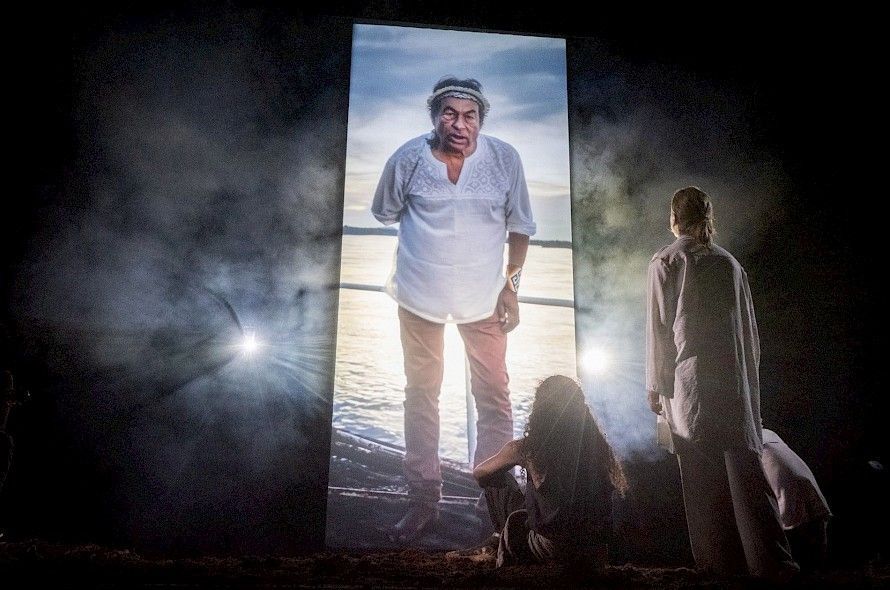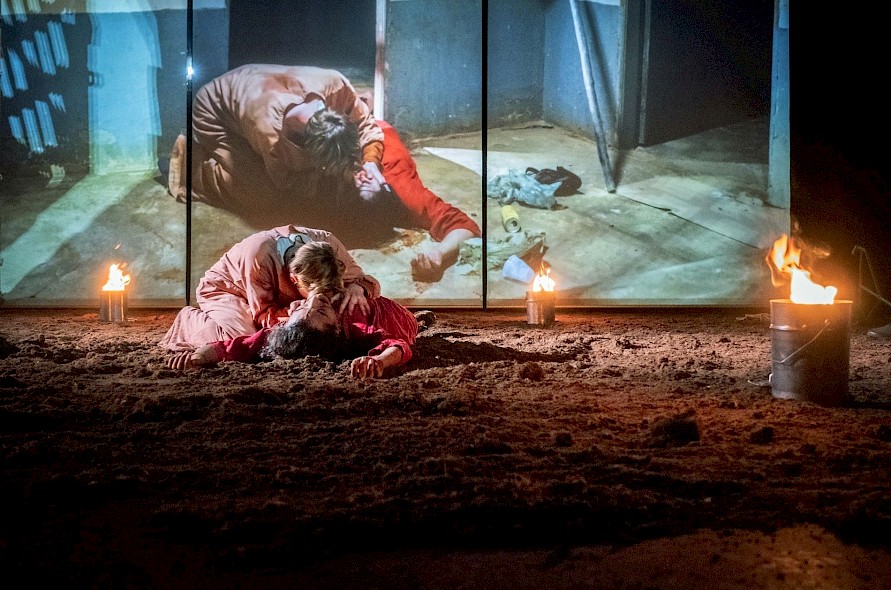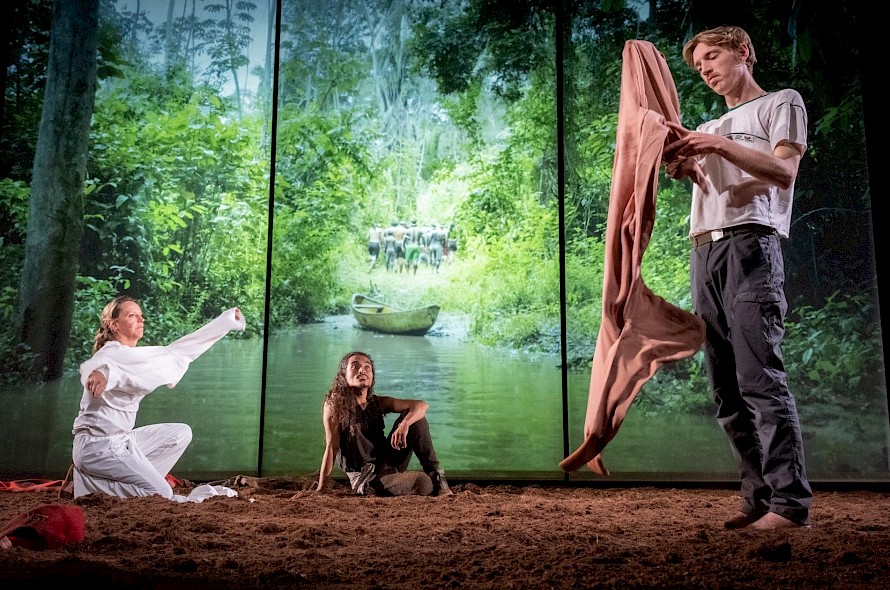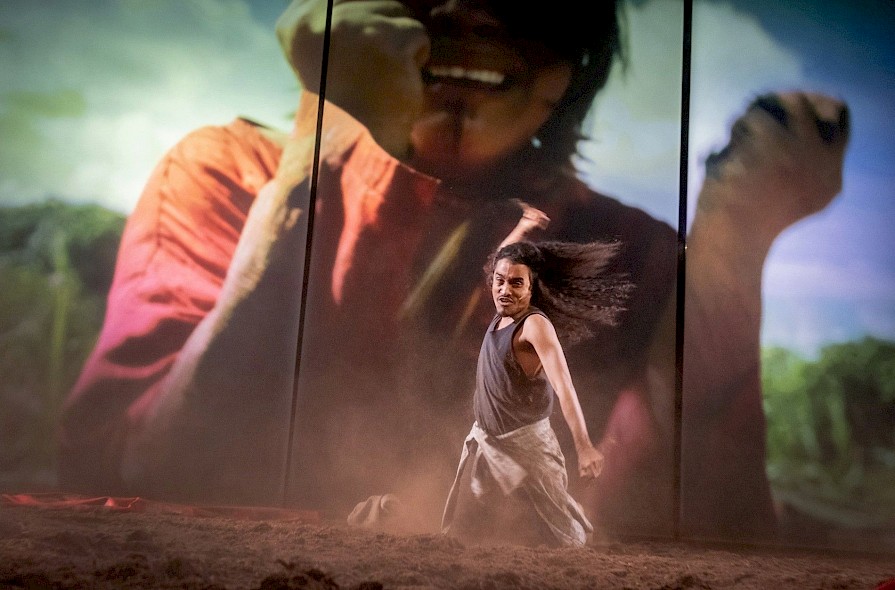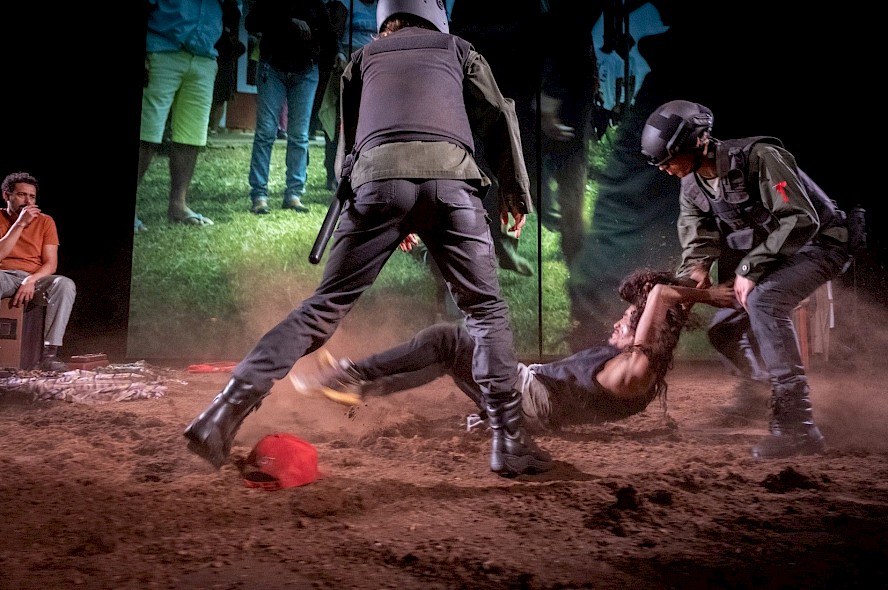 11.11 — 12.11 2023
Performances
Talks
portuguese premiere
Culturgest - Auditório Emílio Rui Vilar
in English, Portuguese, Tucano and Flemish with surtitles in Portuguese and in English
A reflection around power, resistance and law in contemporary Brazil.
In Indigenous thought, the past is always in front of us. In Antigone in the Amazon, the past is projected on three large screens, where a chorus of activists from the Landless Workers Movement (MST), including survivors of a massacre against protesters in 1996, help tell the story of a modern day Antigone.

On stage, four performers take turns playing themselves and Sophocles's characters, weaving together the ancient Greek tragedy, its modern-day retelling in the Amazon, and the story of how this performance was made. The philosopher Ailton Krenak appears in the role of Tiresius the prophet, with no change to his thinking about the world. The Indigenous actor Kay Sara portrays an Antigone who refuses to be used as a symbol or follow rules that are not those of her own people.

The fight for land reform, the massacre of MST activists, the genocide of Black, Indigenous and Transgender people, climate change, and agrobusiness are elements of tragedy in today's Brazil and beyond. But Antigone in the Amazon is not without hope for nature and humanity – if we hurry to say a radical "no" and save what we love
Post Show Talks
On 12 November, the performance will be followed by an on-stage talk with the cast and Tony Omolu.
This event features two cast members - Pablo Casella and Frederico Araújo - and guest Tony Omolu, a hybrid artist with indigenous and African roots, actor-dancer with a background in Political Philosophy and Theater, focusing on theatrical anthropology and a member of the Afrontosas collective. The conversation delves into the political role of art, activism in creative processes, tensions between artistic sectors and decolonial discourses, locations and perspectives of enunciation, and ontological references regarding tragedy, considering contemporary agribusiness and the genocides against Black, Indigenous, and trans communities in Brazil.
Credits
Cast Frederico Araujo, Pablo Casella, Sara De Bosschere, Arne De Tremerie On screen Kay Sara, Gracinha Donato, Célia Maracajà, Choir of militants of Movimento dos Trabalhadores Rurais sem Terra (MST), and as Tiresias, Ailton Krenak Text Milo Rau & ensemble Concept & direction Milo Rau Collaboration on concept, research & dramaturgy Eva-Maria Bertschy Dramaturgy Giacomo Bisordi Dramaturgical collaboration Douglas Estevam, Martha Kiss Perrone Dramaturgical assistance Kaatje De Geest, Carmen Hornbostel Music composition Elia Rediger & Pablo Casella Set design Anton Lukas Costume design Gabriela Cherubini, Jo De Visscher, Anton Lukas Light design Dennis Diels Video design Moritz von Dungern Video editing Joris Vertenten Video making of Fernando Nogari Direction assistance Katelijne Laevens, Chara Kasaraki (intern), Lotte Mellaerts (intern) Production management Klaas Lievens, Gabriela Gonçalves Production assistance Jack Dos Santos Technical production management Oliver Houttekiet Stage management Marijn Vlaeminck Technical Brecht Beuselinck, Dimitri Devos, Max Grymonprez, Sander Michiels, Stavros Tarlizos, Raf Willems Surtitles Katelijne Laevens, Liesbeth Standaert, Elli De Meyer Thanks to Carolina Bufolin

Production NTGent Coproduction The International Institute of Political Murder (IIPM), Festival d'Avignon, Romaeuropa Festival, Factory International (Manchester), La Villette (Paris), Tandem - Scène nationale (Arras Douai), Künstlerhaus Mousonturm (Frankfurt), Equinoxe Scène Nationale (Châteauroux), Wiener Festwochen In collaboration with Movimento dos Trabalhadores Rurais Sem Terra (MST) With support of Goethe Institut São Paulo, PRO HELVETIA programme COINCIDENCIA - Kulturausch Schweiz - Südamerika, The Belgian Tax Shelter

Copresented by the Alkantara Festival and Culturgest, in partnership with Teatro Municipal do Porto.
Content Notes
This performance contains sensitive content including police violence, firearms, blood, murder, and suicide.