Rébecca Chaillon
Whitewashing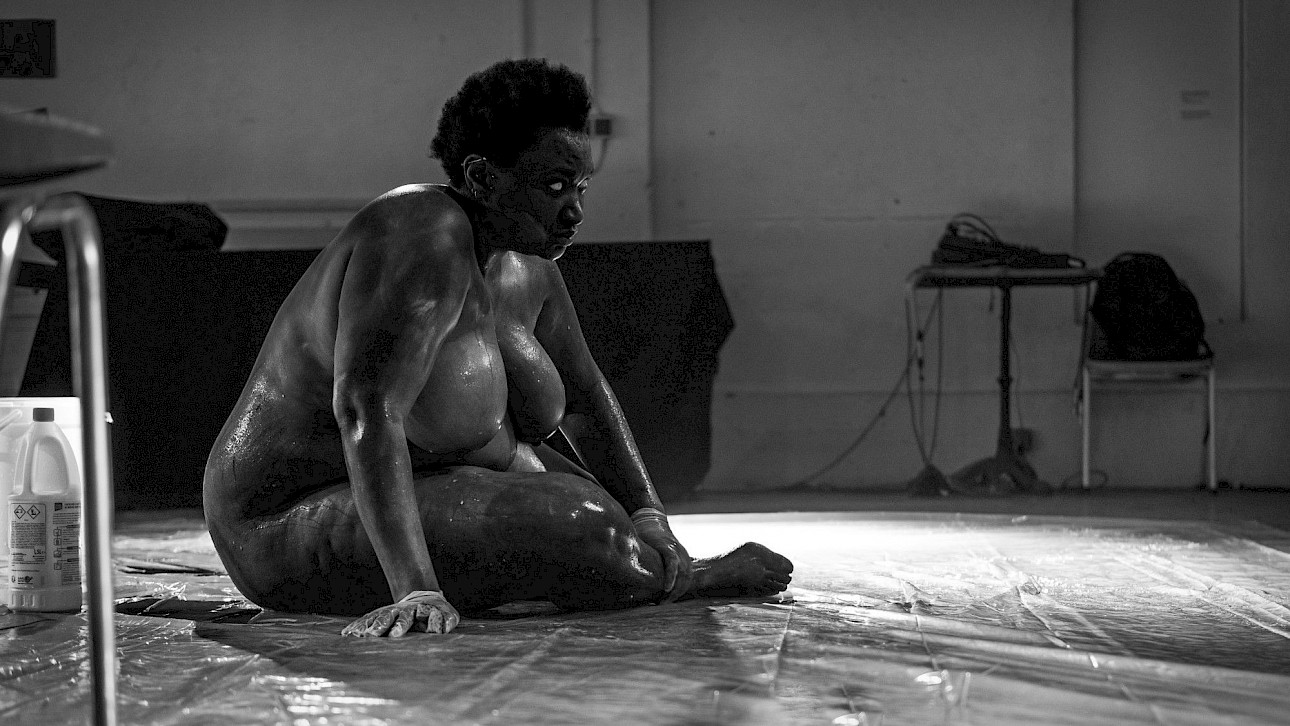 10.11 — 11.11 2023
Performances
Talks
portuguese premiere
in French with surtitles in English for the deaf and hard of hearing and in Portuguese for the deaf and hard of hearing
CANCELLATION INFORMATION
Due to the strike, the 11 November session of the show has been cancelled. Please note that there will be an extra screening tomorrow, 12 November, at 3pm, followed by a conversation between Rébecca Chaillon and Anabela Rodrigues, moderated by Raquel Lima. For exchange your ticket or request a refund, please contact the point of sale where you purchased your ticket directly: the TBA Box Office via email bilheteira@teatrodobairroalto.pt or Meo Blueticket via 1820 (national local call) or email info@blueticket.pt.
How can a Black woman care for herself and her own body in a society dominated by whiteness?
The term whitewashing describes the portrayal of characters from other ethnic groups by white actors, or the act of deliberately covering up incriminating information.

In this performance, Rébecca Chaillon appropriates and subverts the term to address skin lightening; to show the ways in which the impositions of racism weaken the self-esteem of Black women; to plait her way out of dominant beauty standards; and, finally, to restore networks of autonomy, affection, and self-love.

On stage, Rébecca Chaillon and Ophélie Mac first scrub bleach on the floor, and then on their own skin. They create a ritual of skin and hair care that affirms their unique existence in the face of the alienating power of racism. The audience is invited to look, and look again, as a body that society wishes to render invisible becomes increasingly naked, unavoidable, and whole.
Post-Show Talks
On 11 November, the performance will be followed by an on-stage talk with Rébecca Chaillon.
Rébecca Chaillon and Anabela Rodrigues discuss how Black women can take care of themselves and their bodies in societies dominated by whiteness. Anabela Rodrigues is invited due to her extensive and consistent role as a joker in the Theater of the Oppressed in Lisbon (GTO-LX), focusing on the oppressions faced by migrants, Black populations, and domestic workers. The conversation explores the creative processes that translate these experiences onto the stage, as well as avenues for common empowerment through art.
Credits
Written and directed by Rébecca Chaillon Performed by Rébecca Chaillon, Ophélie Mac Technical and stage manager Suzanne Péchenart Translation and surtitles (English) Lisa Wegener Production and management L'Oeil Ecoute – Mara Teboul, Elise Bernard & Amandine Loriol Produced by Cie Dans Le Ventre

This performance is presented with the support from Institut Français and the MaisFRANÇA project, a season conceived by the Institut Français du Portugal with the support of patrons Claude & Sofia Marion Foundation, JC Decaux, BNP Paribas, Mexto and Credibom.
Content Notes
This performance contains references to racism.