Cleo Tavares, Isabél Zuaa and Nádia Yracema
Aurora Negra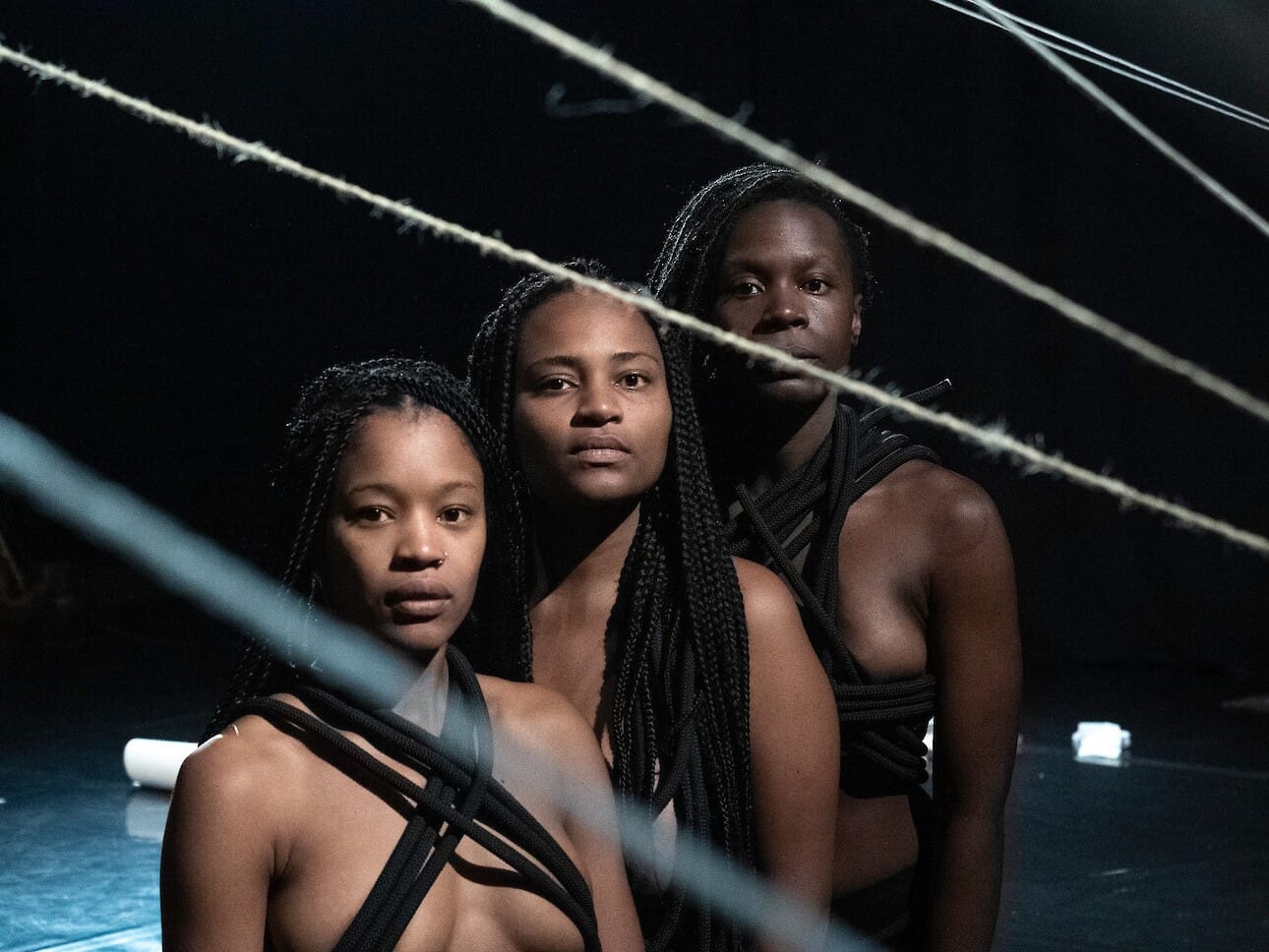 16.06 — 28.06 2020
Public Events
16-28 June 2020
Espaço Alkantara
Cléo Tavares, Isabél Zuaa and Nádia Yracema are in residence at Espaço Alkantara with Aurora Negra, winner of the Amélia Rey Colaço development grant for emerging artists.
A song begins with the voice of a woman speaking. Crioulo. Tchokwe. Portuguese. On stage, three women meet, foreigners in a place where these three languages are spoken. In this Aurora Negra ('Black Dawn'), they celebrate the legacies of their cultures and project a way forward in which they are the heroines of their own stories.
Aurora Negra contests the invisibilization of black bodies in the performing arts in Portugal. Black bodies are systemically denied access to the construction of their own narratives and are either absent from mainstream culture, or present in ways that reinforce stereotypes and prejudice.
Credits
Concept, Artistic Directors and Performers Cleo Tavares, Isabél Zuaa e Nádia Yracema
Scenography Tony Cassanelli
Light Design and Video Felipe Drehmer
Sound Design and Original Music Carolina Varela and Yaw Tembe
Costumes José Capela
Movement Bruno Huca
Styling Eloisa Correia
Dramaturgy Advisors Sara da Graça and Teresa Coutinho
Executive Producer Maria Tsukamoto
Produced by CAMA a.c.
Support Alkantara
Coproduced by Teatro Nacional D. Maria II, Centro Cultural Vila Flor, O Espaço do Tempo, Teatro Viriato
credits
Concept, Artistic Directors and Performers Cleo Tavares, Isabél Zuaa, Nádia Yracema Scenography Tony Cassanelli Light Design and Video Felipe Drehmer Sound Design and Original Music Carolina Varela and Yaw Tembe Costumes José Capela Movement Bruno Huca Styling Eloisa Correia Dramaturgy Advisors Sara da Graça and Teresa Coutinho Executive Producer Maria Tsukamoto Produced by CAMA a.c. Support Alkantara Coproduced by Teatro Nacional D. Maria II, Centro Cultural Vila Flor, O Espaço do Tempo, Teatro Viriato