Monday: Watch Out for the Right!
Cláudia Dias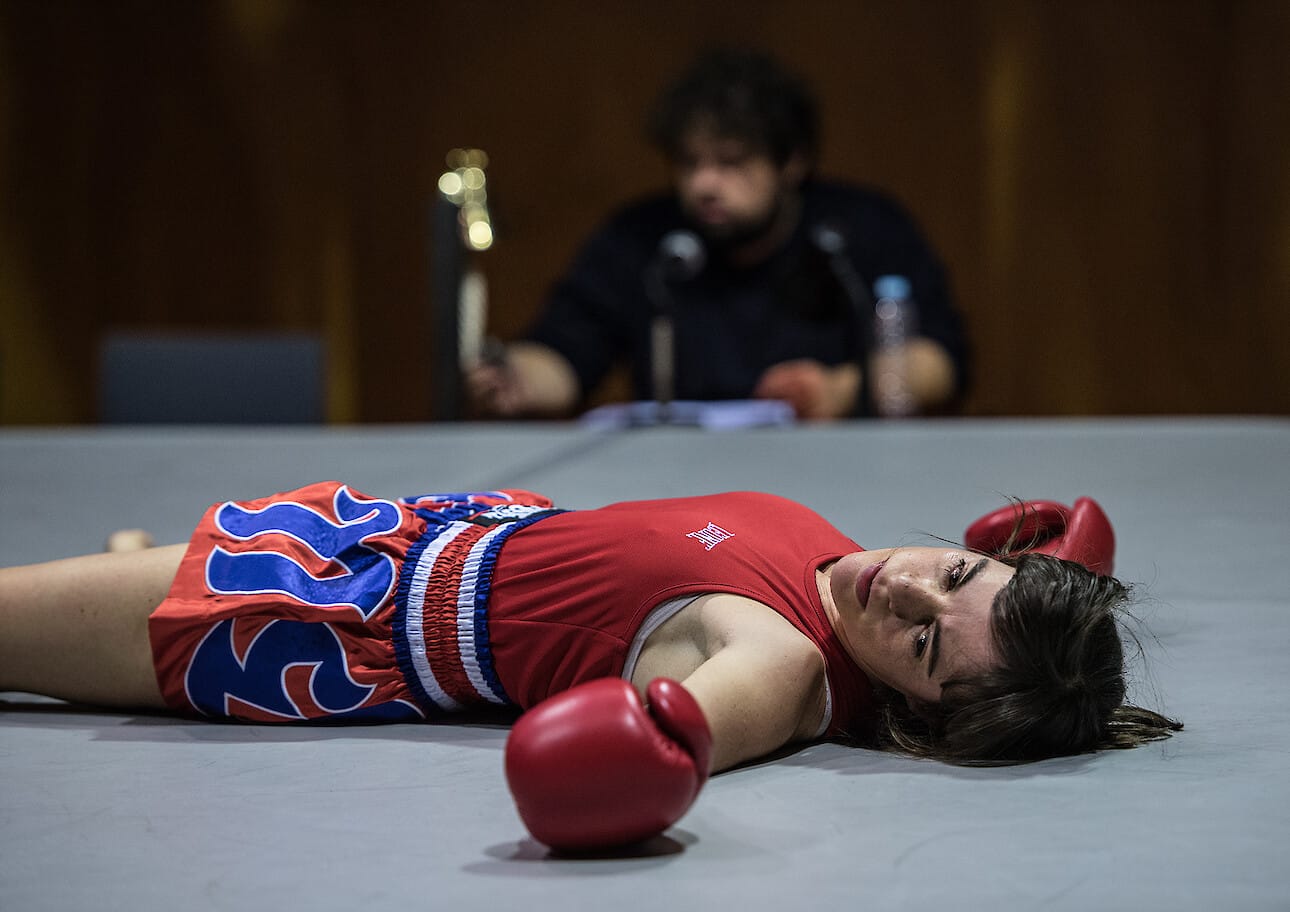 21.09 2019
Seven Years Seven Pieces
Plaza de la Quintana, Santiago de Compostela.
Cláudia Dias steps into the ring for an open air rematch of her 2016 work, Monday: Watch out for the Right! at Plaza de la Quintana, Santiago de Compostela.
Monday: Watch Out for the Right!
In Monday: Watch Out for the Right!, Cláudia Dias steps into a boxing ring with her sparring partner, Thai kickboxing coach Jaime Neves. They fight twelve rounds with their fists, while the referee recites the fighting words of Spanish poet Pablo Fidalgo Lareo. They've all been knocked down before and can deal questions about restrictive monetary policy, migration, depression, and unemployment in the EU like uppercuts.
Monday: Watch Out for the Right! is the first installment in the Seven Years Seven Pieces series, a seven-part performance series addressing the concept of an absent or precarious future developed by Portuguese choreographer Cláudia Dias.
OK, KNOCK ME OUT
When we take a punch, at least something happens. With any luck, we are conscious of the act and know that it's happening. Knowing anything at all when we are being pounded in the face is good, but better to also know who, how, and what it was for. In a world of more or less dissimulated aggression at home and at work and more or less simulated agression in leisure, we expect the punch to land, sooner or later. At least metaphorically. What is surprising is that so many people take the hit without knowing why. Before allowing someone to slug us without warning, it is a good idea to keep the consequences of the act in mind. If we don't know the motivation and end goal, we have missed the point, no matter how square the punch lands. Without understanding, we remain alienated from the facts. And that's how a conflict can cease to be, even after it has happened.
Credits
Concept and Artistic Director: Cláudia Dias Guest artist: Pablo Fidalgo Lareo Text: Cláudia Dias and Pablo Fidalgo Lareo Performers: Cláudia Dias, Jaime Neves and Pablo Fidalgo Lareo/Karas Critical Eye Seven Years Seven Pieces: Jorge Louraço Figueira Thai Boxing Coach: Jaime Neves Technical Director: Nuno Borda De Água Set and Light design: Thomas Walgrave Difusion Somenthing Great Produced by: Alkantara Artistic residencies: Espaço Alkantara, Göteborg Dance and Theatre Festival and Vitlycke Centre for Performing Arts (with support from KID Gothemburg) Teatro Extremo/Teatro Estúdio António Assunção; Companhia de Dança de Almada; O Espaço do Tempo; Teatro Municipal do Porto Co-produced by: Alkantara and Noorderzon Performing Arts Festival Groningen with the support of NXTSTP/Culture Programme of the EU; Goethe Institut and Maria Matos Teatro Municipal with support of the EUROPOLY project; and Teatro Municipal do Porto.
Seven Years Seven Pieces is supported by Câmara Municipal de Almada.