All that is solid melts into air
Cláudia Dias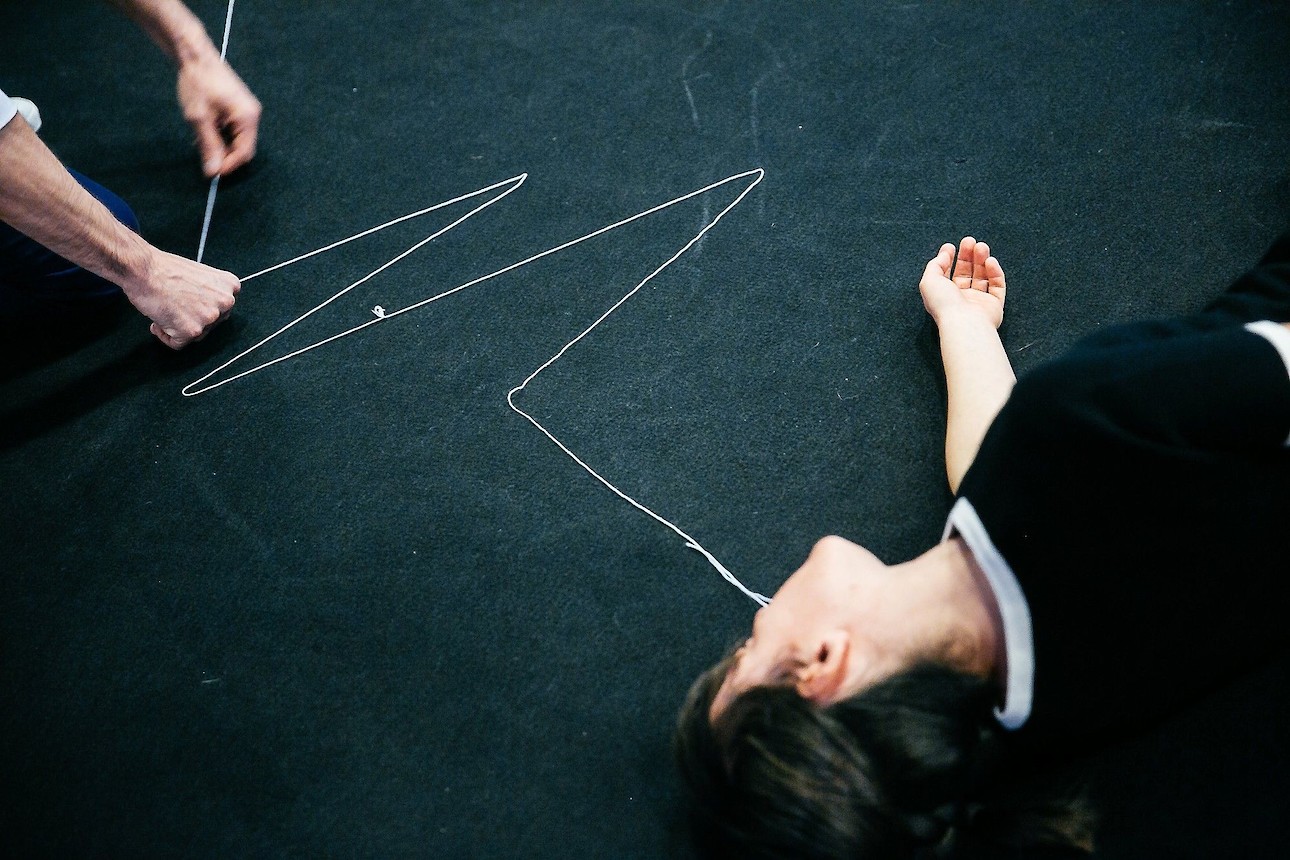 29.05 2021
Seven Years Seven Pieces
Teatro São Luiz - Sala Luís Miguel Cintra
In the second creation of the project Sete Anos Sete Peças, Terça-Feira: Tudo o que é sólido dissolve-se no ar, Cláudia Dias is inspired by the cartoon universe of Osvaldo Cavandoli. On stage, with Luca Bellezze, they construct a visual narrative, using a thread to tell the story of a ten-year-old boy whose grandparents were expelled first from Palestine and then from Lebanon, and who travels from Syria to Italy. At a time when the dividing lines, borders, barriers, front lines and crosshairs of war conflicts, the ranks and lines of identification of the refugee drama, the lines of the maritime boundaries of nations, the hard lines of the radical factions of political and religious organisations, Cláudia Dias and Luca Bellezze work (in)a unifying line, able to put together what is apart.
Concept, direction and text Cláudia Dias Guest artist Luca Bellezze Performed by Cláudia Dias and Luca Bellezze Set and light design Thomas Walgrave Assistant Karas Animation Bruno Canas Technical director Nuno Borda de Água Produced by Alkantara Co-produced by Maria Matos Teatro Municipal, Teatro Municipal do Porto Critical eye Jorge Louraço Figueira Artistic residencies Teatro Municipal do Porto, O Espaço do Tempo, Centro Cultural Juvenil de Santo Amaro – Casa Amarela Special thanks Ângelo Alves, Anselmo Dias, Ilda Figueiredo, José Goulão, Jorge Cadima, Paulo Costa
Cláudia Dias
Cláudia Dias (Lisbon, 1972) is a Portuguese choreographer, performer, and teacher. Education Cláudia Dias began her dance training at Academia Almadense and received a scholarship to continue her training with Companhia de Dança de Lisboa. She completed the training program for Contemporary Dance performers at Fórum Dança and the Professional Course in Management of Cultural Organisations and Projects (Cultideias). She holds a Master's degree in Performing Arts from Universidade Nova de Lisboa. Performance & Creation Credits As a performer, Cláudia...