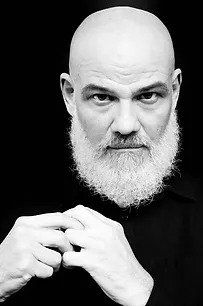 Marcelo Evelin
Marcelo Evelin born in Piauí (Brazil), is a choreographer, researcher and performer. He lives and works between Amsterdam and Teresina. Based in Europe since 1986, working with dance and collaborated in projects with artists from various languages also on physical theater, music, video, installation and occupation of specific spaces.
He is an independent creator with his company Demolition Incorporada, established in 1995, and teaches at the Mime School of Amsterdam, Holland, where he also guides students in creative processes. He directs workshops and collaborative projects in several countries in Europe, USA, Africa, Japan, South America and Brazil, where he returned in 2006 and since then he has also been acting as manager and curator, having deployed in Teresina, Núcleo do Dirceu (2006-2013), an independent artist collective and research and development platform for Contemporary Performing Arts. In March 2016 he opened in Teresina, along with the cultural manager Regina Veloso, CAMPO, a new space to think, practice and disseminate art and related disciplines, and as part of the studio Demolition Incorporada.
His performances Matadouro (2010) and Suddenly everything is black with people (2012) were presented in more than 18 countries, 'Batucada (2014) is a performative event, with the participation of more than 300 performers from different nationalities. Dança Doente/Sick Dance, which is inspired by the universe of Tatsumi Hijikata (JP). It premiered in May 2017 at the Kunsten Festival des Arts (Be), and toured in Europe, Brazil and Japan. The Invention of Evilness, his last creation, premiered in April 2019 at CAMPO, Teresina (Br), followed by performances at Live Arts Festival, Bologna (It), Festival Dias da Dança, Porto (Pt), Kunsten Festival des Arts, Brussels (Br), HAU, Berlin (De), Festival de Campinas (Br); Festival d'Automne à Paris (Fr), Mousonturm/Frankfurt and in 2020 at the Gropius-Bau Museum, Berlin (De).