João dos Santos Martins
Coreografia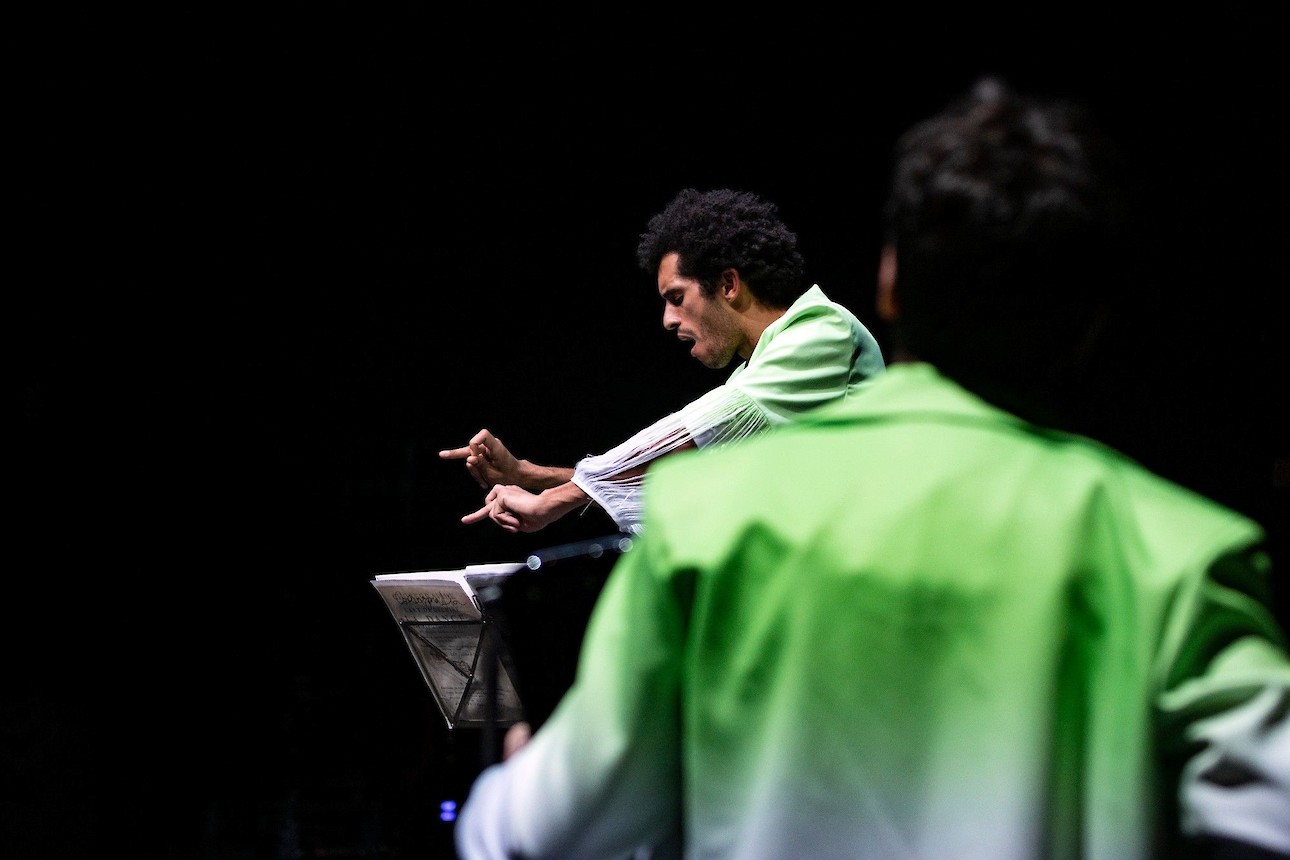 In a lecture-performance entitled Salário Máximo, presented at the Portuguese Parliament in Lisbon in 2014, Vera Mantero maintains that dance seems to her to be the least appropriate art form to discuss things. According to her, it's easier to communicate a concrete idea through cinema or literature. This statement supports the commonly-held belief that dance, while it is a metaphor for thought, cannot speak. The apparent conflict here points to the relationship between politics and poetics, that can also be expressed as the dichotomy between written text — which can be translated — and the composition of gestures, action, and movements.
In his 18th century treatise, Raoul Fueillet proposes that dance be first written down on paper using a notation system he has devised, before being performed and transposed to the body. The idealization, written like a law, would be separate from the danced reality, resulting from a practice, in space. The process of transmission would be like dancing a language or speaking a dance, a process in which text and body interact in a negotiation between expression and communication.
João dos Santos Martins, July 2020
Raquel Lima in conversation with João dos Santos Martins
Choreography João dos Santos Martins Performer Adriano Vicente Music and live performance João Barradas Text José Maria Vieira Mendes Text in Portuguese Sign Language Sofia Fernandes Light Filipe Pereira Costumes Constança Entrudo Produced by Sofia Matos/Materiais Diversos Executive producer Claraluz Keiser/Associação Parasita e Association Mi-mai Coproduced by Alkantara, Associação Parasita, Centro Cultural Vila Flor, Materiais Diversos Arts Residencies Alkantara, Centro Cultural Malaposta, Studios Victor Córdon, 23 Milhas - Ílhavo Special thanks Sandra Gorete Coelho
Materiais Diversos, Associação Parasita and Alkantara are funded by República Portuguesa | Cultura-Direção Geral das Artes.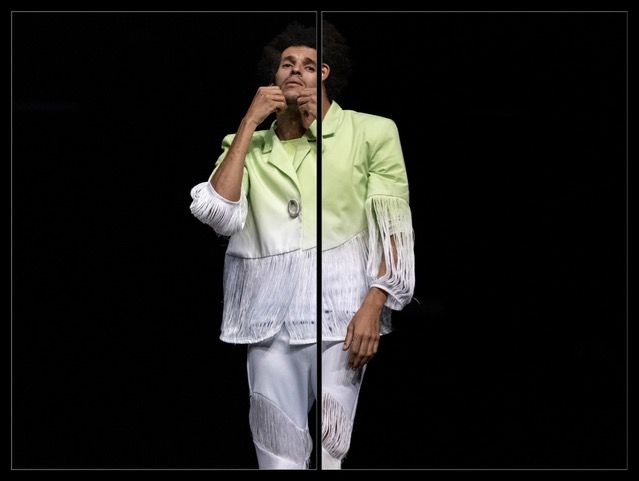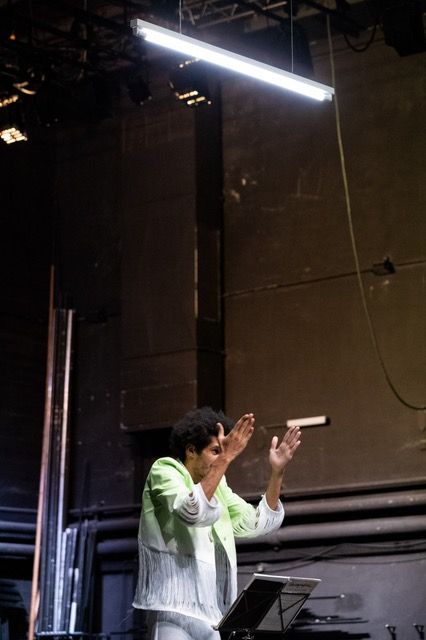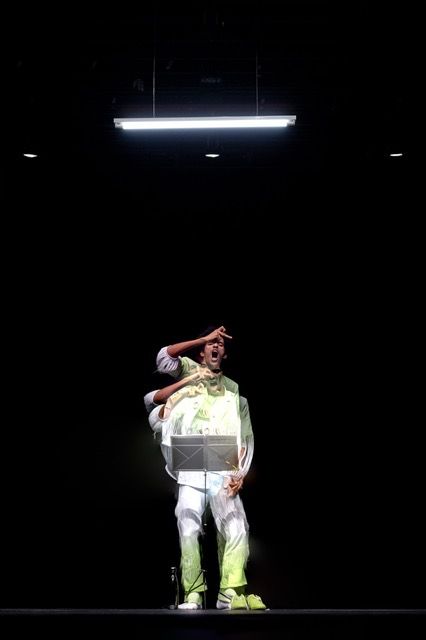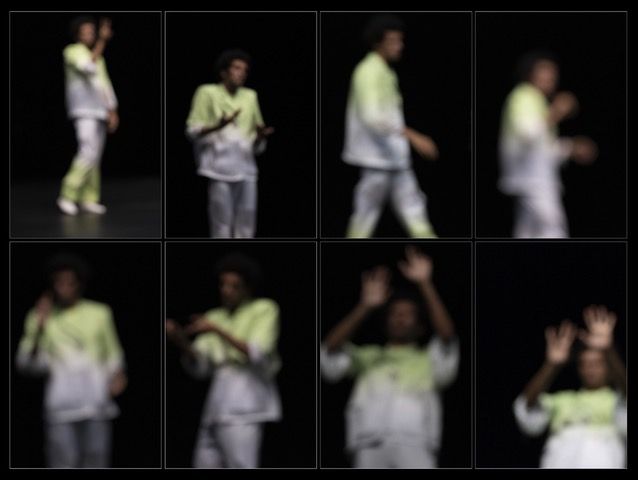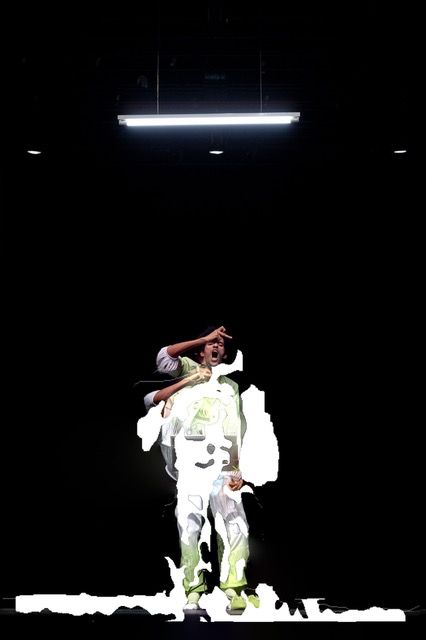 João dos Santos Martins (Santarém, 1989) is an artist whose work encompasses different forms, including choreography, exhibition-making, and publishing. He studied at the Lisbon School of Dance and P.A.R.T.S. in Brussels, and completed his eduction at exerce in Montpellier and the Institute for Applied Theatre Studies in Giessen. Since 2008, his practice articulates producing his own work and collaborating, as a dancer, with other choreographers such as Ana Rita Teodoro, Eszter Salamon, Moriah Evans, and Xavier Le Roy. His work is generally developed in collaboration with other artists, such as Anthropocenas (2017) with Rita Natálio and Onde Está o Casaco? (2018) with Cyriaque Villemaux and Ana Jotta. He organised the cycle Nova — Velha Dança in Santarém in 2017, with performances, workshops, talks and exhibitions. He created a format for the collective historicisation of dance in Portugal — Para Uma Timeline a Haver — with Ana Bigotte Vieira and founded a newspaper — Coreia — dedicated to producing discourse about art and artists, particularly in relation to dance. In 2020 he organised the PACAP 4 programme with Forum Dança.
Adriano Vicente is a dancer and performer. He studied dance at the Quorum Academy and P.A.R.T.S. in Brussels. He has performed in Dawn (2016) by Marten Spanberg, Louisianna 2017 and The Olympics by Nikima Jagudajev, 2018 by André e. Teodósio, and Xtraordinário by Teatro Praga. He also collaborates with DJ Audiopath on a project that combines electronic music, dance, and the body.
José Maria Vieira Mendes (Lisbon, 1976) writes and translates for theatre. He is a member of Teatro Praga since 2008. Some of his work has been translated into English, French, Italian, Spanish, Polish, Norwegian, Romanian, Slovakian, Swedish, and German, with productions in Germany, Sweden, and Scotland. He has received several awards including Prémio Revelação Ribeiro da Fonte 2000 (Portuguese Institute of the Arts) Prémio ACARTE/Maria Madalena Azeredo Perdigão 2000 (Calouste Gulbenkian Foundation), and the António José da Silva Prize for Dramaturgy 2006 (Camões Institute and Funarte) for the play A Minha Mulher.
João Barradas is an accordionist, who moves between classical music, jazz, and improvised music. Composers such as Luís Tinoco, Fabrizio Cassol, and Dimitris Andrikopoulos have regularly composed new work for him over the years. He also researches, transcribes, and composes original music for the accordion. He is a winner of the World Accordion Trophy and the international competition at Castelfidardo and Okud Istra (Croatia). As a jazz accordionist, he has collaborated with artists like Greg Osby, Mark Turner, Aka Moon, Mike Stern, Gil Goldstein, Fabrizio Cassol, Mark Colenburg, Jacob Sacks, Miles Okasaki, Rufus Reid and Jerome Jennings, among others. Directions, his first album for the New York record label Inner Circle, was nominated for best album of the year by Downbeat magazine.
Filipe Pereira is a choreographer, dancer, and floral designer. Choreography credits include Nova Criação and O que fica do que passa with Teresa Silva; and Hale — Estudo para um organismo artificial, in collaboration with Aleksandra Osowicz, Inês Campos, Helena Martos, and Matthieu Ehrlacher. As a dancer, he has worked with João dos Santos Martins, Sofia Dias & Vítor Roriz, Dinis Machado, Beatriz Cantinho, and Martine Pisani, among others. His floral design project is called Antese.
Constança Entrudo (Lisbon) lived in London for six years, where she studied Textile Design at Central Saint Martins and worked at Marques'Almeida and Peter Pilotto. In 2017, she became a designer at Balmain, under the creative direction of Oliver Rousteing, in Paris. In the same year, she launched her fashion brand at ModaLisboa, where she presented her first collection for summer 2018.
João dos Santos Martins
João dos Santos Martins (Santarém, 1989) é um artista cujo trabalho abrange várias formas como a coreografia, a exposição e a edição. Começou por estudar na Escola Superior de Dança, em Lisboa, e na P.A.R.T.S., em Bruxelas, e concluiu os seus estudos entre o exerce, em Montpellier, e o Instituto para Estudos de Teatro Aplicado, em Giessen. Desde 2008, tem articulado a sua prática entre a produção de peças e a colaboração como bailarino com outros autores como Ana Rita Teodoro, Eszter Salamon, Moriah Evans e Xavier Le Roy. As suas peças são geralmente...