Cão Solteiro & André Godinho
Heading Against The Wall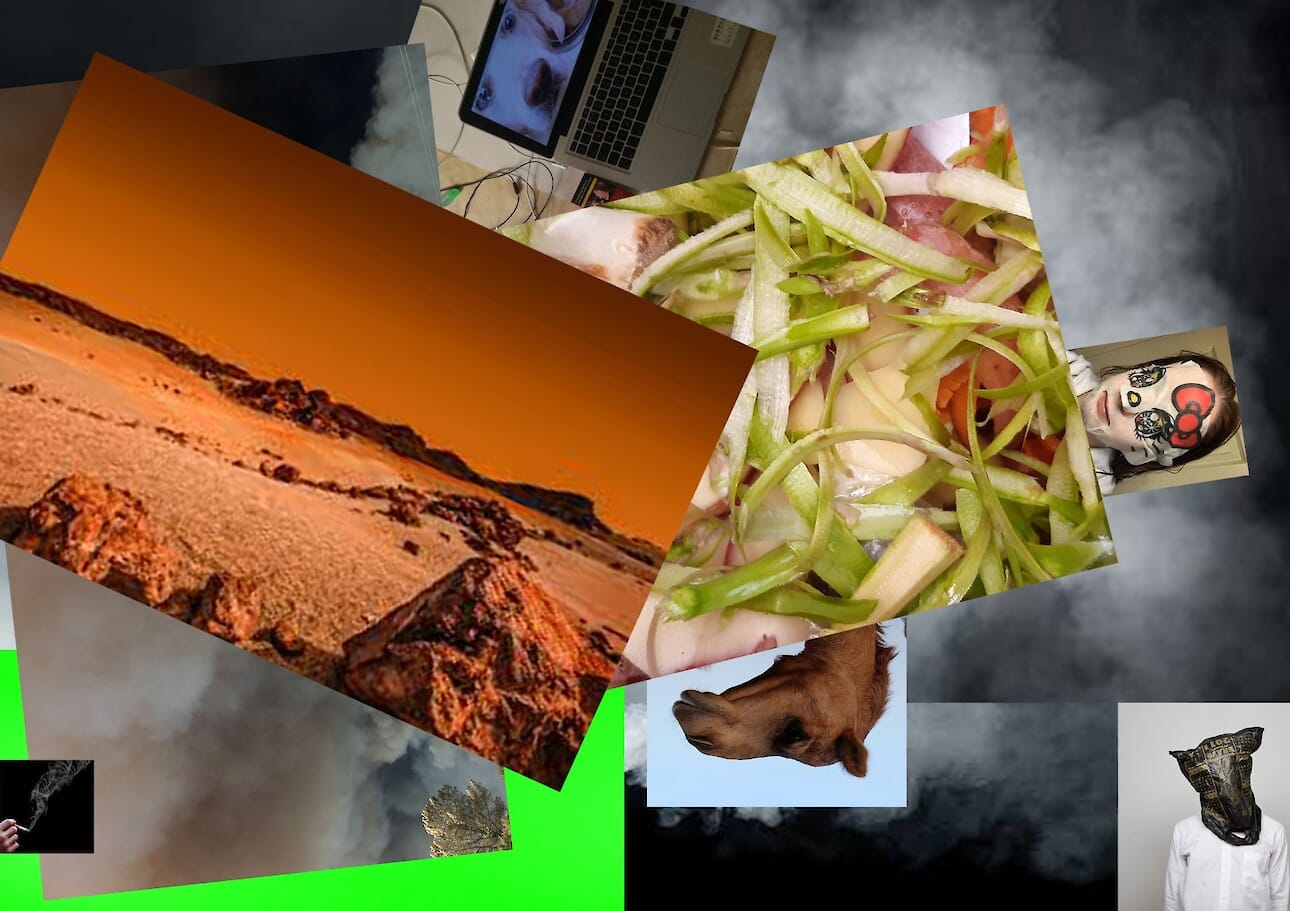 13.11 — 16.11 2020
world premiere
Possibly maybe, as much as I definitely enjoy solitude,
I wouldn't mind perhaps, spending little time with you,
sometimes, sometime
Uncertainty excites me babe
Who knows what's going to happen?
Lottery or car crash
Or you'll join a cult
(Possibly maybe, Bjork, 1996)
We always start with an impossibility or rather, a possibility which we then rush to render impossible. We always work directly with the place and the people. What can we do then in the thin space we're now in, dominated by images of absence.
Perhaps what we are now seeing is not theatre, but an idea of "theatre" that we insist on projecting digitally, an indefinable space, somewhere between public and private. Perhaps it would be unwise to accept that proximity will guarantee any kind of intimacy. Heading Against the Wall has two versions that can be seen at home or live, at Lux. They're two different objects, choose one. A documentary about nothing, the more you find out the less you know.
Cão Solteiro & André Godinho
Raquel Lima in conversation with Cão Solteiro & André Godinho
A piece by Cão Solteiro & André Godinho Scenography Vasco Araújo Costumes Mariana Sá Nogueira Dressmakers Mestra Teresa Louro, Mestra Rosário Balbi Sound design Emídio Buchinho Lighting design Joana Mário Stage direction Cão Solteiro Noëlle Georg Production director and photography Joana Dilão Production Mariana Sá Marques Sound recording studio Estúdio da Maternidade Actors Cecília Henriques, Greg Wohead, Paula Sá Nogueira Voice-over António Gouveia
Online version - Film director and editor André Godinho Sound recording Emídio Buchinho Sound recording studio Estúdios Namouche Streaming Bitmood
Booklet Texts Maria Sequeira Mendes, Nuno Fonseca, Pedro Faro, Francisco Frazão Booklet images Mariana Sá Nogueira Translations Susana Pomba Scenography intern Sara Vicente (Mestrado em Teatro/ Escola Superior de Teatro e Cinema) Theatre intern Mansy Singh, Sofia Silva (Curso Profissional de Artes do Espectáculo/Escola Básica e Secundária Passos Manuel) Supported by São Luiz Teatro Municipal, Teatro Praga, Junta de Freguesia da Misericórdia Co-Production Cão Solteiro, TBA-Teatro do Bairro Alto, Alkantara Special thanks to Bazar do Vídeo, Equipa do LuxFrágil, Filipe Sambado, Joaquim Montes – Estúdios Namouche, Teatro Praga, André E. Teodósio
Cão Solteiro and Alkantara are funded by República Portuguesa | Cultura-Direção Geral das Artes and Câmara Municipal de Lisboa
The theatre collective Cão Solteiro has collaborated with filmmaker André Godinho since 2007. Together they test the limits of theatre and cinema in pieces such as 3 (2007), We All Go A Little Mad Sometimes (2010), Play, The Film (2011), Day For Night (2014), We're Gonna Be Alright (2017), and Could Be Worse: The Musical (2019).
Cão Solteiro is a platform of artists creating works of theatre in Lisbon since 1997, directed by actor Paula Sá Nogueira, costume designer Mariana Sá Nogueira, and producer/photographer Joana Dilão. Their creative process relies on the construction of images, and their work often code-switches between different artistic languages and disciplines. They continually question the formal relevance of theatre and test its structural rules, focusing mainly on how communication establishes itself and unfolds in the theatre. Their tools include the displacement and purposeful misuse of formal elements and of meaning, absurd entrances, errors, and pure lies.
André Godinho(Lisboa, 1979) studied film at the Lisbon Film School and documentary film at Gulbenkian. He is a filmmaker and script supervisor. Documentary credits include MHM (about Manuel Hermínio Monteiro), Faz Tudo Parte (a behind the scene documentary of a concert with José Mário Branco, Sérgio Godinho & Fausto Bordalo Dias), No Trilho dos Naturalistas, and the TV documentary series Armário. Fiction shorts include La Chambre Jaune e Ponto Morto. e a série de tv documental Armário. He has made videos for theatre, dance, music, and opera performances by André e. Teodósio, André Heller-Lopes, Estrutura, Joana Barrios, João Pedro Vaz, Rui Lopes Graça, Sérgio Godinho, and Sónia Baptista, among others. He is a close collaborator of theatre companies Cão Solteiro and Teatro Praga, with whom he works not only as a filmmaker, but also as an actor and co-creator.
Greg Wohead is a writer and performer originally from Texas. He makes theatre performances, one-to-one pieces, durational works and audio experiences. His work has been seen at theatres and festivals in the UK, USA and Europe, and he's an Associate Artist at Shoreditch Town Hall in London. He draws on a range of references and forms including autobiography, found audio, film, historical reenactment and fan fiction. His recent touring work includes Celebration, Florida, Comeback Special, The Ted Bundy Project, Crack of Dawn, and Call It a Day.
Vasco Araújo studied Sculpture at the University of Lisbon and Visual Arts at Maumaus. He received the EDP Young Artist prize in 2003. Recent individual exhibitions include Vasco Araújo (M-Museum, Leuven, Belgium, 2018); Decolonial desires (Autograph ABP, London, 2016); Potestad (MALBA - Museu de Arte Latino-Americana de Buenos Aires, Argentina, 2015); among others. His work has been published in various books and catalogues, and is part of many collections including Centre Pompidou and Musée d'Art Moderne (France); Calouste Gulbenkian Foundation (Portugal); Museo Nacional Reina Sofia (Spain); Museum of Fine Arts Houston (USA), and Pinacoteca do Estado de S. Paulo (Brazil).
Emídio Buchinho is a professor, musician, and composer. He studied Film (Sound) at the Lisbon Film and Theatre School and holds a degree in Science and Technology in the Arts from the Porto Catholic University. Since 1991, he regularly composes, performs, and produces music for film, theatre, dance, installations, intermedia, and TV advertising.
Cecília Henriques is a graduate of Chapitô, where she studied with Ávila Costa, Jorge Silva Melo, Francisco Salgado, and Bernardo Gama, among others. She has worked with theatre directors Jorge Silva Melo, Franzisca Aarflot, Solveig Nordlund, John Romão, Vasco Araújo, André Godinho, Cão Solteiro, and André Teodósio. In 2011, she created the theatre company Plataforma285, where she works as a director and actor. She has acted in films directed by Alberto Seixas Santos, Gonçalo Luz, Solveig Nordlund, André Pardal, and Cácá Diegues. She has appeared in several TV series in Portugal. She attended Robert Castle's Method Acting workshop and the Lisbon Film and Theatre School.