Chiara Bersani
Gentle Unicorn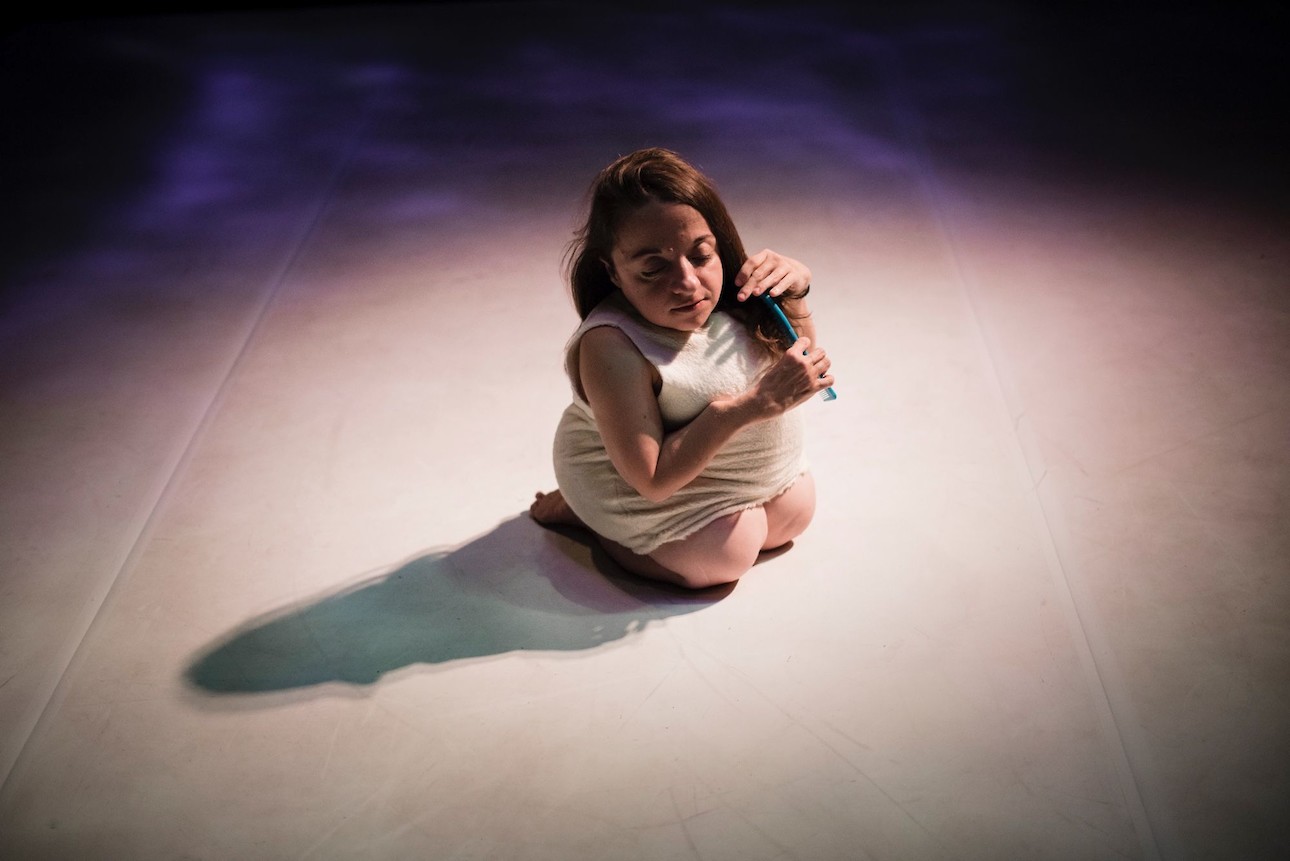 13.11 — 16.11 2021
portuguese premiere
In this solo, Chiara Bersani dedicates her body to the figure of the unicorn. Slowly, she allows us to observe her gentle gestures and reconsider what we think we know.

We don't know a lot about unicorns. We've forgotten where they come from and why they exist. We no longer know their story, and yet their image is everywhere. Unicorn pool floats, unicorn internet memes, unicorn plush toys — all signs that we have stripped this mythical creature of its myth. What say did it have in the way we portray it?

In Gentle Unicorn, Chiara Bersani dedicates her flesh, muscles, bones, eyes, and breath, to the unicorn's perspective. With delicate movements and a steady gaze, she invites us to reframe its story. In so doing, she manifests her own political body and its social role — claiming responsibility for the image the world will have of her.
On 14 November, the show will be followed by a talk with Chiara Bersani and the Portuguese artist Diana Niepce, moderated by the journalist and cultural activist Carla Fernandes. The talk will be in English.
Credits
Created and performed by Chiara Bersani Sound Design F. De Isabella Light Design Valeria Foti Stage Manager Paolo Tizianel Dramaturgy Advisor Luca Poncetta Movement Coach Marta Ciappina Artistic Advisor Marco D'Agostin Styling Elisa Orlandini Producer Eleonora Cavallo Administrative Advisor Chiara Fava Touring and Communication Giulia Traversi Photographs Roberta Segata, courtesy of Centrale Fies Produced by Associazione Culturale Corpoceleste_C.C.00# Coproduced by Santarcangelo Festival, CSC – Centro per la Scena Contemporanea (Bassano del Grappa) with support from Centrale FIES (Dro), Graner (Barcelona), Carrozzerie | N.o.T. (Roma), CapoTrave/Kilowatt (Sansepolcro), ResiDance XL/Rete Anticorpi XL - Network Giovane Danza D'autore coordinated by L'arboreto - Teatro Dimora di Mondaino Local participants Abuka Abecassis, Edoardo Pasta, Inês Pires
About the artist
Chiara Bersani is an Italian performing artist and choreographer whose work in theatre and contemporary dance explores the politics of the body and how the images we create interact with society's narratives. As an activist, Chiara works to promote the inclusion of disabled artists in the performing arts. In 2019, she was awarded the UBU Prize for best performer under 35.