Irineu Destourelles
Tarantode in an Urban Space Without Memory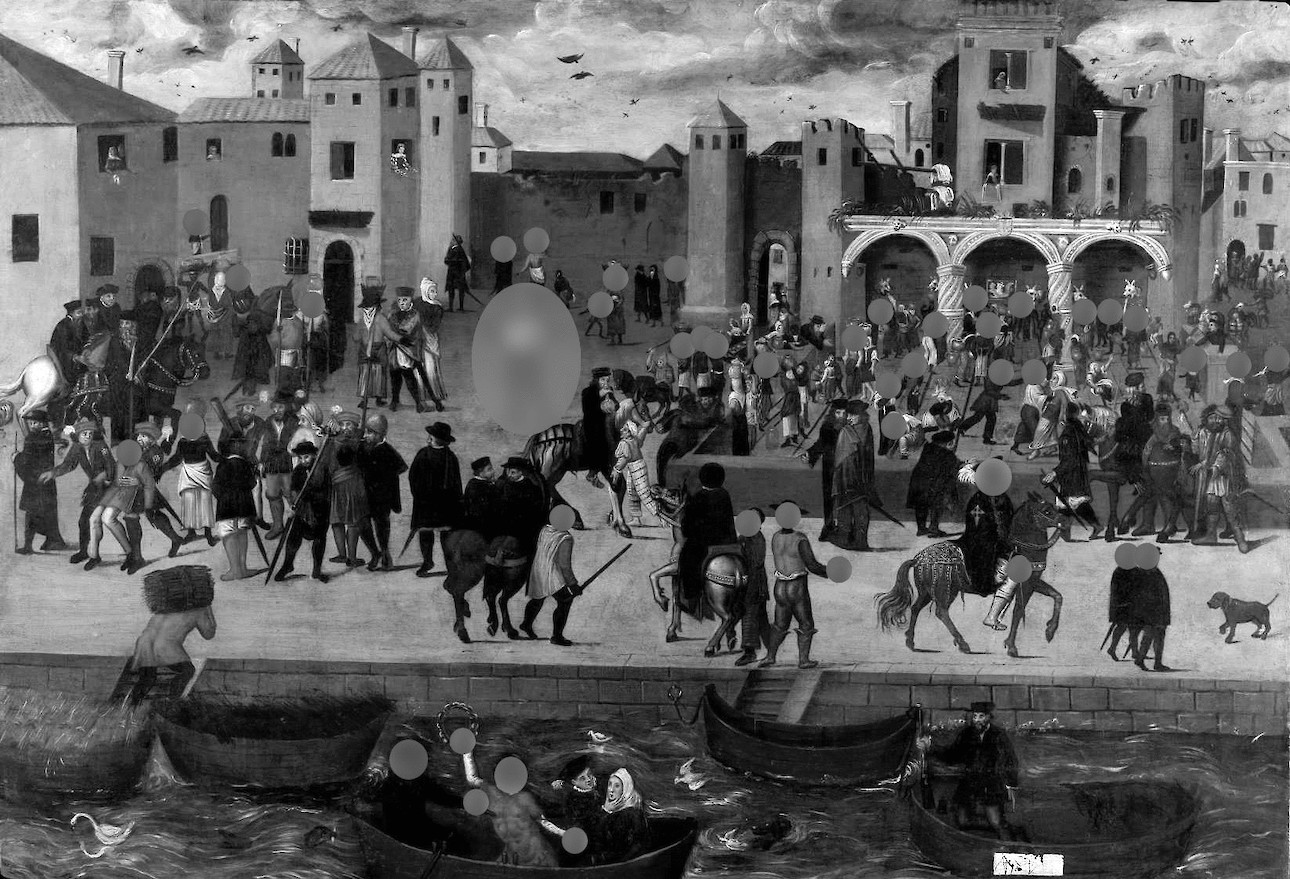 Performative talk - Espaço Alkantara
Video-performance - Streaming em instagram.com/alkantaralisboa/
Free entry (advance booking required)
Video-performance - 120 min | Performative Talk - 60 min
In this video-performance broadcast live via the internet, and followed by a performative talk at Espaço Alkantara, visual artist Irineu Destourelles reflects on the ideological and historical absence of Black bodies in the city of Lisbon, counterposed with the exacerbation of video surveillance and punishment.

The performative talk, under the title "Readings of Tarantode's restlessness: performance", will see Irineu Destourelles and Gio Lourenço, from Teatro Griot, reflect about violence, surveillance, the absence of memory, and the animalisation of the black body.

It is said that Tarantode is the ugly and suffering soul of João de Sá Panasco, who roams openly through our city. He was once, through royal appointment, a noble Knight of the Order of Saint James. The " King's House Black" with a vicious tongue and disdained by the court. He died unhappy and alone. Followed from a distance, Irineu Destourelles, in the skin of Tarantode, half-person, half-animal, traverses Lisbon in search of himself. A video-performance broadcast live via the internet.

— Irineu Destourelles

It is mandatory to wear a mask inside Espaço Alkantara before, during and after the performances.
This work forms part of the Earthways, a network of people, practices and knowledge that contests ecological violence and politics of abandonment. Destourelles took part in one of the network's regular residency programmes, in Lisbon, focusing on the city and its transits at different scales (centre/periphery, rural/urban, national/international, past/future, local/global).
About the artist

Irineu Destourelles is a visual artist whose artistic practice centres speculatively on the impact of discursive violence on the personality. Working predominantly with images in motion and paying particular attention to the concepts through which social categories are constructed, he proposes new and problematic states of being. His works have been shown at Museu Calouste Gulbenkian (Lisbon, 2019), MAMA Showroom (Rotterdam, 2019), Goodman Gallery (Cidade do Cabo, 2019), Transmission (Glasgow, 2017), Transmediale (Berlin, 2015) and Videobrasil 18 (São Paulo, 2013), among others. He studied fine art at Willem de Kooning Academy (Roterdão) and Central Saint Martins (London). Born in Santo Antão, Cabo Verde in 1974, he lives in Edinburgh, UK.

Gio Lourenço was born in Luanda, Angola, in 1987, and grew up in Portugal. Studied theatre at CERCICA and won a scholarship from Centro Nacional e Cultura for training in dance and performance at c.e.m.. Gio is a resident actor at Teatro GRIOT company and a board member since its founding day (2009). There, he collaborated in shows by Zia Soares, Rogério de Carvalho, Nuno M Cardoso, Guilherme Mendonça, Bruno Bravo, António Pires, João Fiadeiro, Helder Costa and Paula Diogo. As an actor, he also worked with directors like Rogério de Carvalho, Adriano Luz, José Carretas, Maria Amélia Videira and Genoveva Faísca. He was a guest actor of the Companhia de Teatro de Montemuro for a year and a half. On TV he was part of the cast of the series "Equador", "Inspector Max" and "Ele é Ela". He was in several music videos, as a dancer, and in film he was part of the cast of the shorts "Filmes e Telemóvel" by Adriano Luz, "Verdade Inconveniente" by Pedro Sebastião and Paulo Cuco. He also collaborated in the documentaries "O Lugar que Ocupas", directed by Pedro Filipe Marques, and "TEMPESTADES, Ensaio de um Ensaio" by Uli Decker, and in the fiction feature "A Ilha dos cães" by Jorge António.