Nacera Belaza
L'Onde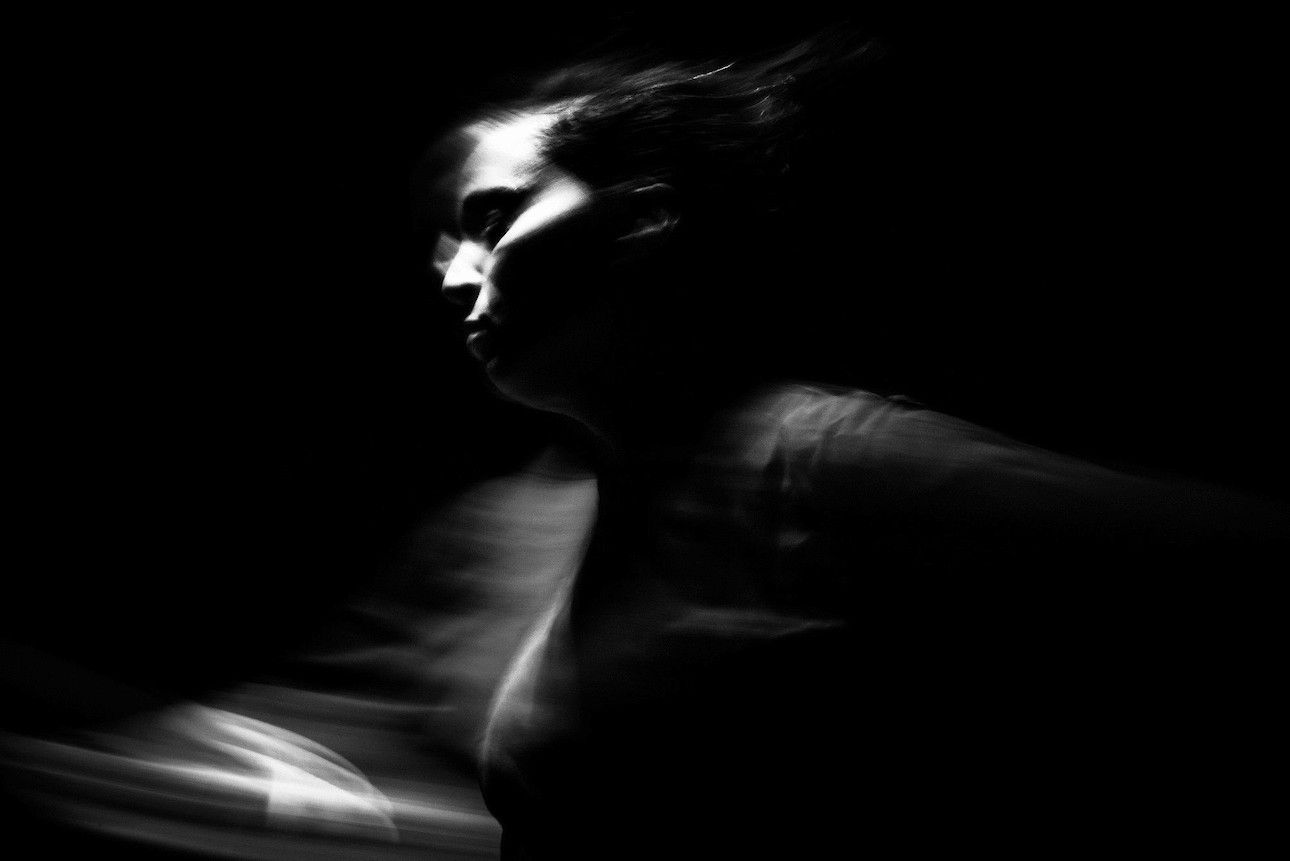 19.11 2021
portuguese premiere
Teatro São Luiz - Sala Luis Miguel Cintra
Nacera Belaza and her dancers reach for infinity, through repetition and immersion. Here, movement is a way to free the body, rather than control it.

Five dancers appear and disappear in near total darkness. They are in constant movement, tirelessly repeating a circular gesture. A recording of traditional Algerian music is looped and layered on itself, percussive and disharmonious.

In L'Onde [The Wave], Nacera Belaza places an idea of the infinite in the bodies of dancers who are, themselves, situated in an infinite space. It is a carefully crafted choreography of movement, light, and sound, underpinned by a fascination with the power of rituals. The result is a dance that deploys a state of mind, an inner unity combined with openness and connectivity. The fullness of being.
Credits

Choreography, Light and Sound Design Nacera Belaza Performers Nacera Belaza, Aurélie Berland, Bethany Emmerson, Magdalena Hylak, Mohammed Ech Charquaouy Technician Christophe Renaud Produced by Compagnie Nacera Belaza In partnership with Kunstenfestivaldesarts/Charleroi danse, Centre Chorégraphique de Wallonie - Bruxelles, Festival de Marseille, deSingel, Campus International des Arts; MC93 Bobigny, LUMA Foundation, ICI—Centre Chorégraphique National Montpellier-Occitanie Direction Christian Rizzo, L'Arsenal-Cité musicale-Metz, Atelier de Paris/CDCN Apoios - SACD (Programa duo), Institut Français - Ville de Paris, SPEDIDAM

Compagnie Nacera Belaza is supported by Région Ile-de-France.
About the artist
Nacera Belaza was born in Medea, in Algeria. She has lived in France since the age of five. After completing her studies in Literature, she creates her own dance company in 1989. Nacera Belaza choreographes an internal path, space, the emptiness in oneself, the areas of shadow and light, vertigo, and repetition. She transforms dance into a vertical introspective diving. Her works explore movement in a peaceful, profound, and continuous breath, confronting patience, rigor, stripping to "the deafening noise of our existences", rendering gesture its existential utility. In 2008, she was honoured with the Prix de la révélation chorégraphique de l'année du Syndicat de la critique for her work Le Cri. She was appointed Chevalier de l'ordre des Arts et des Lettres by the French Ministry of Culture in 2015, and in 2017 she received the choreographer award from the Société des Auteurs et Compositeurs Dramatiques. Compagnie Nacera Belaza is regularly invited to major venues and festivals.
Brochure - Alkantara Festival 2021 at São Luiz Teatro Municipal