Sonya Lindfors
Cosmic Latte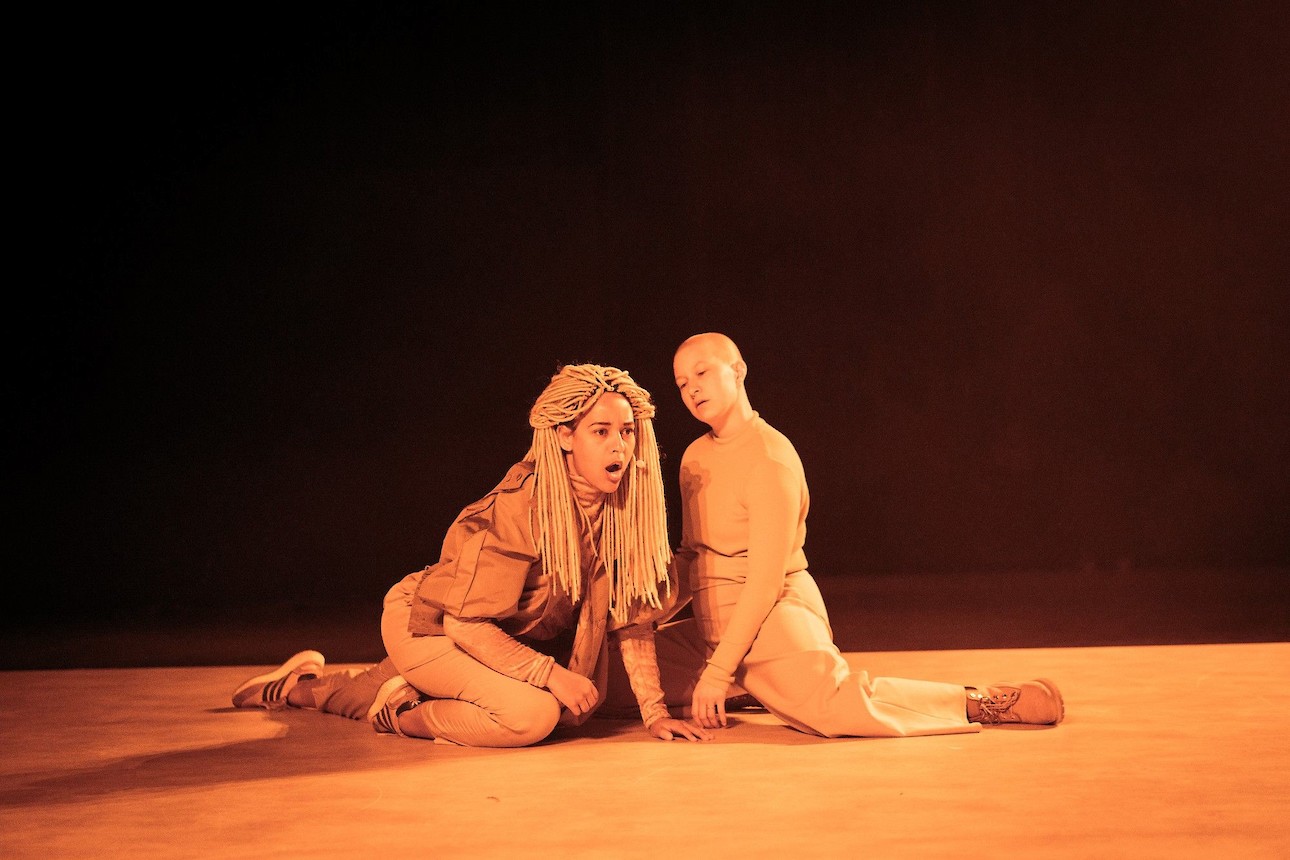 26.11 — 27.11 2021
portuguese premiere
Performances with subtitling for deaf people
In English, Finnish, and Lingala, with Portuguese surtitles
Cosmic Latte takes place in the future. Five brown bodies are on stage and it no longer means anything, but still feels like something.

Cosmic Latte plays out a future we cannot yet imagine. It is the year 3021 and we live in a world that escapes definitions and categories. The logic of our thinking has changed. Black and white are no longer opposites but contain each other. Afrofuturism, contemporary art, West African cosmology, Sun Ra, and Bach can coexist in this porous, diverse, and beige-coloured space.

Afrofuturism, a term coined in 1993 by Mark Dery, provides the framework for the radical dreaming that is Cosmic Latte. Afrofuturists reimagined Blackness and Black identity, dreaming of a place where freedom, equality, past, present, and future come together in a mystical interzone that escapes all limitations and boundaries.

Cosmic Latte (a reference to the name given by researchers to the average colour of the universe) is the third instalment of Sonya Lindfors' series of works focusing on Blackness. This is the first time her work is presented in Portugal.
On 26 November, the performance will be followed by a talk with Sonya Lindfors and the Portuguese artist Melissa Rodrigues, moderated by the journalist and cultural activist Carla Fernandes. The talk will be in English and Portuguese, with simultaneous translation in Portuguese.
Credits
Choreography, direction and concept Sonya Lindfors Working group Deogracias Masomi, Ima Iduozee, Pauliina Sjöberg, Geoffrey Erista, Esete Sutinen, Sonya Lindfors Cast in Lisbon Deogracias Masomi, Zen Jefferson, Pauliina Sjöberg, Selma Kauppinen, Sonya Lindfors Choreographer's assistants Esete Sutinen, Pauliina Sjöberg Light design and technical prodution Erno Aaltonen Sound design Jussi Matikainen Costume design Sanna Levo, Pauliina Sjöberg Translation Carla Fernandes Subtitles for deaf people Pedro Soares Subtitles operator Patrícia Pimentel Produced by Zodiak - center for new dance, Sonya Lindfors, UrbanApa Residencies BoraBora (Århus), Schwankhalle (Bremen)
Sonya Lindfors
Sonya Lindfors is a Cameroonian-Finnish choreographer, facilitator, and educator. She is the founding member and artistic director of UrbanApa, an antiracist and counterhegemonic arts community based in Helsinki. She received an MA in choreography from the Helsinki University of the Arts in 2013. At the core of her work is the practice of shaking and challenging existing power structures and empowering communities. Currently she is busy with speculative practices and decolonial dreaming.