Open Call Kilombo
Curated By Aurora Negra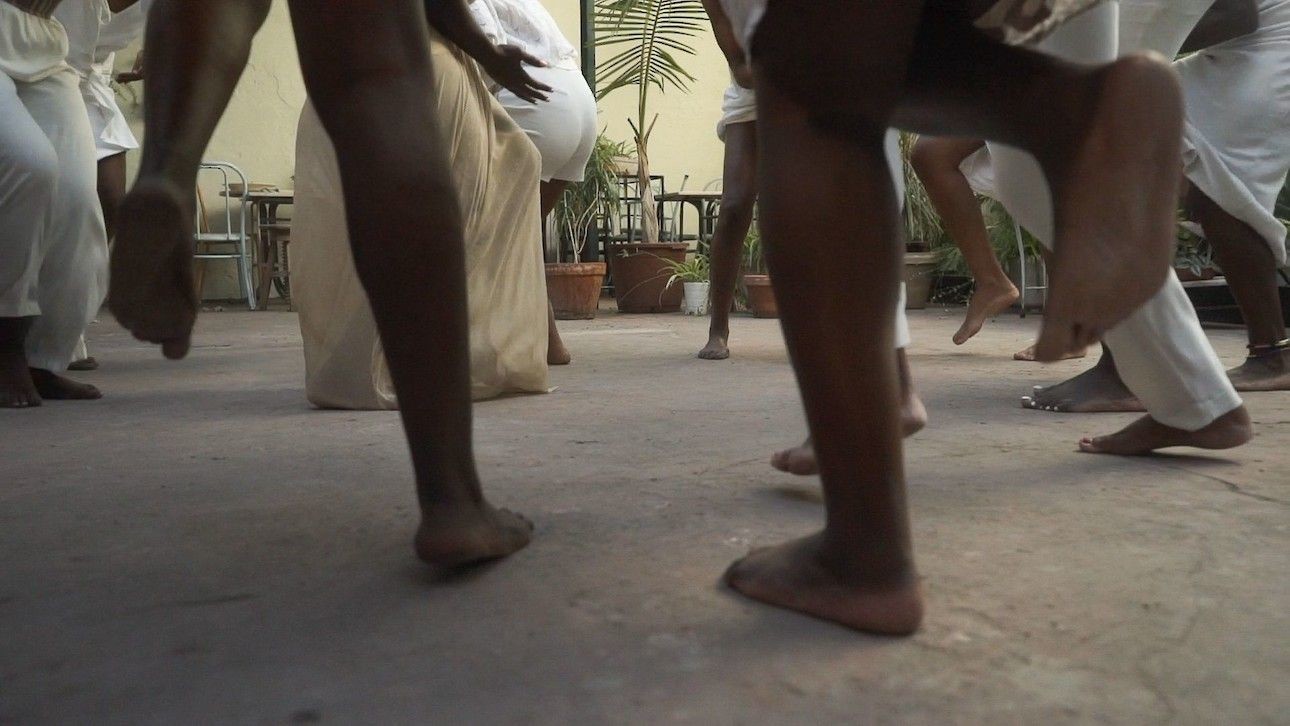 Alkantara, in a collaboration with the Aurora Negra collective, opens a call for supporting and presenting 3 projects.
The selected projects will be provided a creativity grant of 1200€, as well as an artistic residency of two weeks, at Espaço Alkantara (between August and September 2023). The projects will be presented between November 17th and 19th, in the context of the Kilombo program, in Alkantara Festival 2023, at São Luiz Teatro Municipal.

Check out the application form here.

Kilombo is a place for reunion, resistance and dream, where the community nurtures, shares and takes care. It is a place of strength and liberation. The invitation Alkantara presented us was received with great joy, since it solidifies our collaboration that began with the first edition of Kilombo in 2021.

We accepted the challenge and our first thought was exactly this: the will to create a space where we could gather artists who, with their art, have contributed to the creation of dreams and utopias, thinking of the present with the will to transform the future based on the celebration of their ancestry, to create and celebrate art and its resilience together.

It Will Be Cinema, It Will Be Food, It Will Be Music, It Will Be Performance, It Will Be Celebration, It Will Be Possible!

– Aurora Negra

Aurora Negra is the collective created by Cleo Diára, Isabél Zuaa and Nádia Yracema. The three of them graduated from ESTC (Lisbon School of Theatre and Cinema) and have followed a career in interpretation and creation for Theatre and Cinema, both nationally and internationally. The project was born to create a space where they could tell their stories with their own narratives, fictions, voices and bodies, celebrating their ancestry in all forms. Since 2020 they have created the shows Aurora Negra and Cosmos, and are working on their third show A Missão da Missão.
What we offer

• Creation grant of 1200€
• Artistic residency for creation purposes, of two weeks and with the exclusive access to the studio at Espaço Alkantara, in one of the following periods in 2023
- July 31st to August 13th
- August 14th to 26th
- September 18th to 30th
• Accommodation in Lisbon for up to 2 people (if necessary)
• Travel (up to a maximum of 500€, if necessary)
• Technical support
• Artistic mentoring by the Aurora Negra collective
• Support for project management, by the Alkantara team, in terms of financial and budget management, applications and requests for financial support (upon request)
• Conditions (cachet, production support and technical support) for the public presentation of the project in the Kilombo programme (1 to 3 presentations) between the 17th and 19th of November 2023, at São Luiz Teatro Municipal, in Lisbon
More information about Espaço Alkantara, including technical rider, here.
More information about São Luiz Teatro Municipal and its venues, here.

What we ask for:

Please provide information about previous projects, synopsis and note of intentions of the projects to be developed and presented in Kilombo, biographical notes of the people involved and images (photos of the process or others) related to the work to be developed.

Who is this call for?

This application aims to support artists with projects in the field of performing arts (theatre, dance or performance) with an experimental or research nature, including projects involving other artistic or disciplinary practices.

The projects must be in the creative phase and may be developed by individual artists or groups.

We strongly encourage applications from BIPOC artists and artists of all cultures, religions, nationalities, abilities and disabilities, sexes, gender identities and expressions, sexual orientations, ages, and socioeconomic statuses.

We will try to accommodate the needs of the people involved in the projects and adapt the conditions offered in order to ensure everyone is welcome.

How to apply?

Proposals must be submitted via this form by June 21st, written in Portuguese, in English, or in Capeverdean language.
The results will be communicated by email on June 29th.
The selection is of the responsibility of the Aurora Negra collective and is not subject to appeal.

Qualquer dúvida poderá ser esclarecida por email: candidaturas@alkantara.pt
Open Call extensive description