Open Studio: Teresa Silva
Por motivo de força maior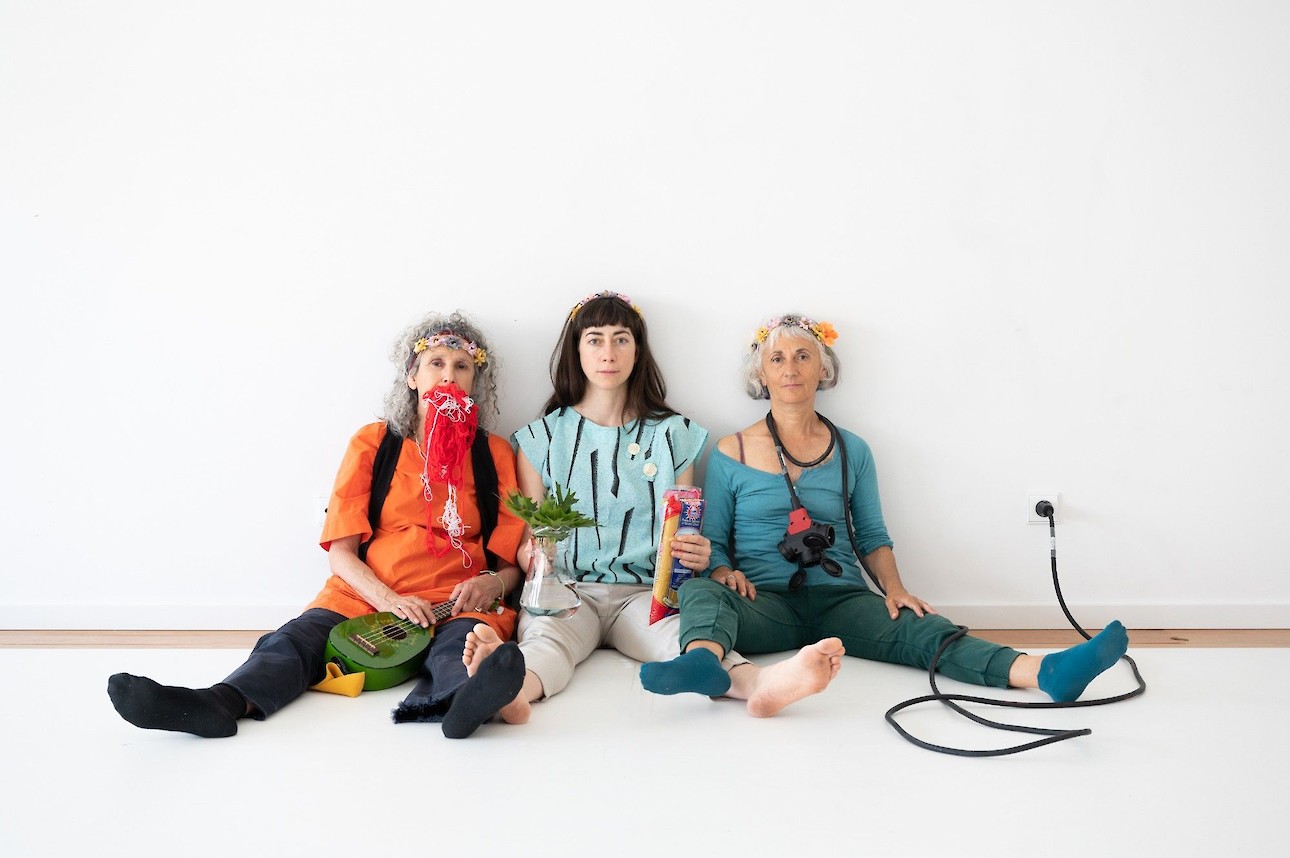 27.07 2023
Open Studio
Artists in Residence
In the last weeks of July the choreographer Teresa Silva is in residency at Alkantara with his new creation Por motivo de Força Maior.

On July 27, Teresa Silva will open the studio to share part of the process


Sabine Macher, Margarida Bettencourt and I are women artists, born in 1955 in Germany, in 1962 in South Africa and in 1988 in Portugal. Building on a shared history, this piece has grown out of intergenerational encounters as a space of mutual learning and feeds off our wish to weave connections between defiance, female affiliation and tremor. In this correlation, I do not view tremor as fear or hesitation, nor defiance as confrontation, but as forces for shaking certainties and systems. I am interested in the exercise of defiance that acts at the level of perception and that sets in motion a kind of functioning and understanding different from that which surrounds me. Drawing on the speculative fiction writing of Ursula K. Le Guin — which is relevant as a reading of the present that proposes a shudder, a metaphorical and symbolic pause — we pursue a hypothesis that sees fiction as a basket. We think of this piece as a recipient, a meeting point, in which we live together with other women — artists, fictional characters, mythological figures and archetypes — all of them rebels and manufacturers of tremor. Our history interweaves with theirs. Here "Due to Force majeure" sheds its juridical baggage, to act like a poetic motor setting off forces moving between the inevitable, the indomitable and the necessary.


Teresa Silva
Credits
A project by Teresa Silva Co-criation, interpretation, texts, costumes, objects, vídeo and film Margarida Bettencourt, Sabine Macher e Teresa Silva Ligth Design & technical direction Santiago Tricot Sound creation & sound design João Bento External Eye David Marques External Eye at CAMPUS Paulo Cunha e Silva Liesbeth Gritter Financial management Vítor Alves Brotas Administrative management Janine Lages Comunication Support Maria João Bilro Executive production Teresa Silva Production Agência 25 Co-Production Teatro do Bairro Alto, O Rumo do Fumo/Vera Mantero, Chorège | CDCN Falaise Normandie Support Fundação Calouste Gulbenkian, Fundação GDA Residency support Alkantara, CAMPUS Paulo Cunha e Silva, Estúdios Victor Córdon, Marosi Stromboli, O Espaço do Tempo, Rumo do Fumo & The Place to Pause
Teresa Silva
Teresa Silva was born in Lisbon in 1988. She is a researcher, choreographer and performer in the field of contemporary dance and performance. She sees dance as something that goes beyond the physical body, which translates to a work of attention and sensitivity, and to a multidisciplinary approach to movement.