Gaya de Medeiros
Atlas of the Mouth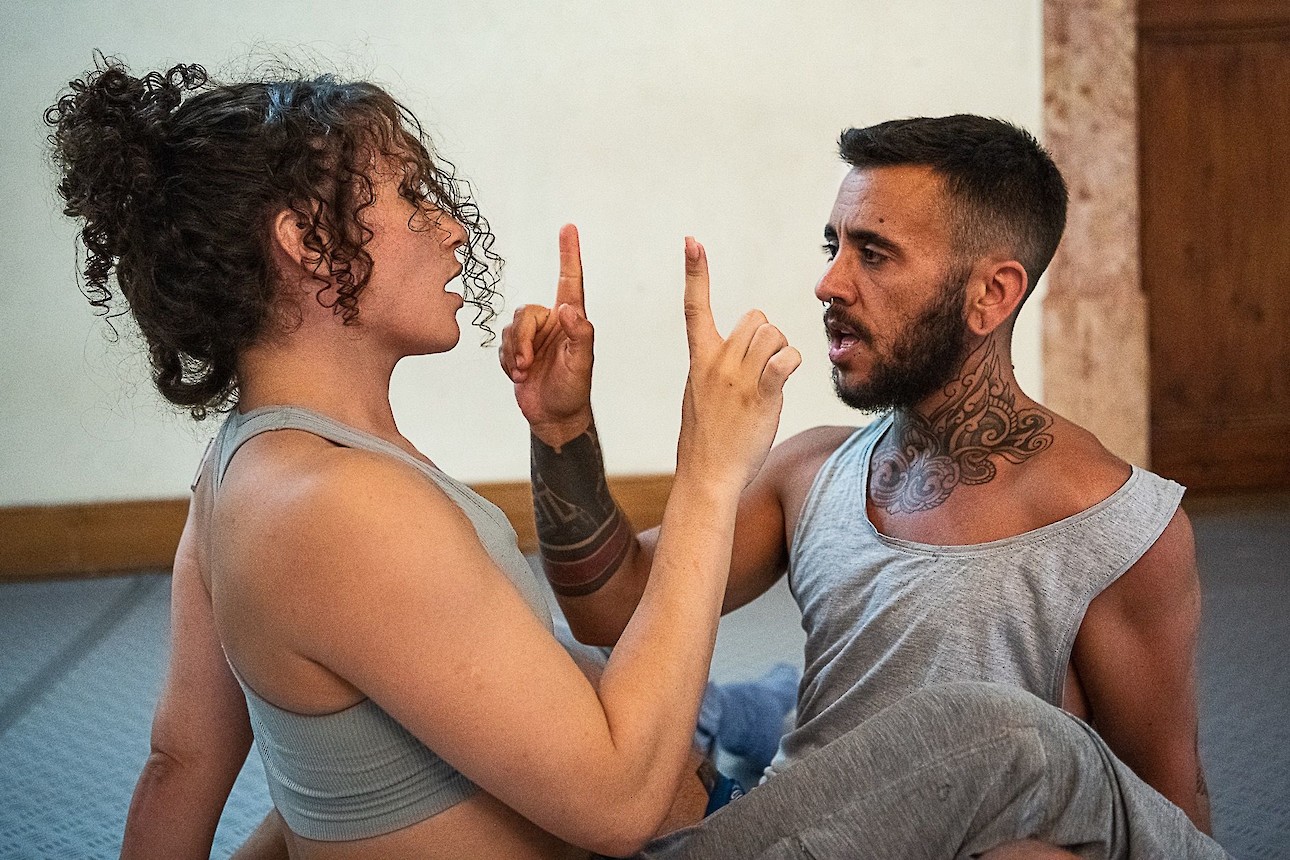 20.11 — 21.11 2021
pre-premiere
In Portuguese, with English surtitles
In Atlas of the Mouth, two trans bodies investigate the mouth as a place of many intersections: words, identity, and voice; public and private; eroticism and politics. The performance seeks to contribute new narratives, exploring entries that are created from the mouth out and understood from the mouth in.
Credits
Directed and produced by Gaya de Medeiros Cocreated and performed by Ary Zara, Gaya de Medeiros Designer, provocateur, and creator of the "Brief Atlas da Boca" João Emediato Videos Ary Zara Light and set design João Pedro Fonseca Costumes Kahumbi (Feiticeire) Sound technician Milton Estevam Translation and subtitles Joana Frazão Coproduced by Alkantara and Companhia Olga Roriz Supported by Self-Mistake
About the artists

Ary Zara is a non-binary trans person, who studied film at Universidade Lusófona and University of Texas at Austin. Recepient of a ZON award and with a script for a feature length film sold to Ukbar Filmes, they/he works on queer video esthetics and is currently in pre-production for a short film funded by ICA and produced by Take It Easy. They/he founded the activist project T Guys Cuddly Too, through which they/he has participated as a speaker in various events and delivers workshops in businesses and schools.

Gaya de Medeiros is a trans woman, dancer, drag queen, choreographer, producer, and director. She is trained in animation, ballet, contemporary dance, and dramaturgy. She danced with Companhia de Dança do Palácio das Artes for nine years. Gaya has created three solos (É o amor outra vez, Proteína Desnaturada and After Party) and was a cofounder and producer of Rede Sola de dança. She has choreographed for Drag Taste Lisbon (2019-2021). In Portugal, she has worked with Gustavo Ciríaco and Tiago Cadete, among others. In 2021 she founded BRABA, a platform that aims to support iniciatives in the trans/non-binary community.

João Emediato is a visual artist, designer, and performer. He holds degrees in Journalism (Pontifícia Universidade Católica de MInas Gerais) and Theatre (Centro de Formação Artística da Fundação Clóvis Salgado). He was Creative Director of Estúdio Lampejo between 2014 and 2018, where he coordinated and designed several campaigns for the arts sector. He was an actor and assistant director in several projects in collaboration with Plataforma Planos Incríveis. He co-created LIO, a performance and urban intervention collective. He is currently completing a master's degree in Visual Narratives at Aalto University, Finland, where he researches creative projects at the intersection of graphic design and performance, exploring the relation between word and image.
Evening programme - Atlas da Boca