Francisco Camacho
VELHⒶS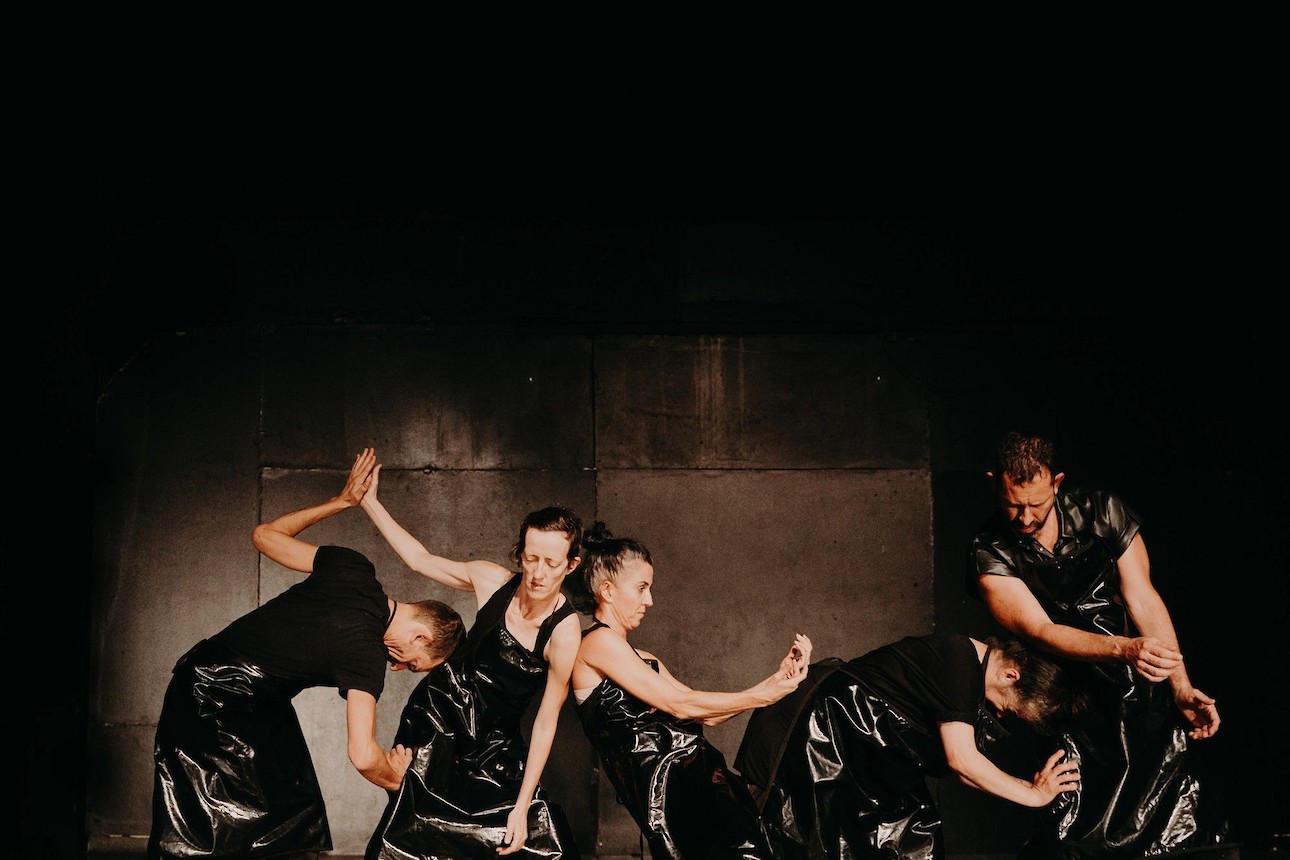 Teatro São Luiz - Sala Luis Miguel Cintra
Audio description (in Portuguese) and Portuguese Sign Language - 28.11 16H
In Portuguese, with English surtitles
Can we be too old to dance? A group of six dancers in their 50s challenge the idea that dance is for the young.

Ana Caetano, Bernardo Gama, Carlota Lagido, Filippo Bandiera, Francisco Camacho, and Sílvia Real move together on stage, to the live music of Sérgio Pelágio. They dance and reflect on their careers as dancers, sharing moments from their past and movements they used to perform. They dance in order to understand how they relate to their physicality in the present, and because why they still desire movement. They dance to participate in the future.

VelhⒶs is part of Ageless Dance, a programme of talks, workshops and performances that challenges preconceived ideas about dance and ageing.
On 28 November, the show will be followed by a talk with the artists and the researcher Susanne Martin, moderated by the journalist and cultural activist Carla Fernandes. The talk will be in English, with simultaneous translation to Portuguese and Portuguese Sign Language.
Credits
Artistic director and Choreography Francisco Camacho Cocreated and performed by Ana Caetano, Bernardo Gama, Carlota Lagido, Filippo Bandiera, Francisco Camacho, Sílvia Real Original music created and performed by Sérgio Pelágio Set and light Frank Laubenheimer Assistant to the director Carlota Borges Lloret Consultant Diego Lasio Sound Sérgio Milhano Video subtitling Olho de Boi Executive producers Teresa Brito, Tiago Sgarbi Coproduced by EIRA, Theatro Circo de Braga With support from Dance On (Berlin), Estúdios Victor Córdon (Lisbon), Teatro Gustavo Modena (Genova) Thanks to Stefania Opisso, Giovanna Gosio, Tiago Cadete, Teatro da Voz
Eira is funded by Governo de Portugal | Ministério da Cultura | Direção-Geral da Artes | Câmara Municipal de Lisboa
About the artists

Francisco Camacho is a choreographer and dancer. He is a founding member and current artistic diretor of the production house EIRA. He studied dance and theatre at Companhia Nacional de Bailado, Ballet Gulbenkian, Merce Cunningham Studio, Movement Research, Susan Klein School, and at the Lee Strasberg Theatre Institute. He is part of the Portuguese New Dance movement that began in the late 1980s, and several of his solo works are important references in Portuguese Dance. His work has been presented in Europe, America, Africa, and Asia. He is the recipient of several honours and awards, including the Bordalo Prize (awarded by the Portuguese press association) and the ACARTE/Maria Madalena de Azeredo Perdigão Prize (awarded by the Gulbenkian Foundation). He has performed in work by Creach/Koester, Alain Platel, Carlota Lagido, Miguel Moreira, and Filipa Francisco, and has collaborated on several occasions with Meg Stuart. He has co-authored dance performances with Mónica Lapa, Vera Mantero, Carlota Lagido, Vera Mota, and Sílvia Real, and co-created other works with Fernanda Lapa and Miguel Abreu. He created choreographic work for a piece by visual artist Pedro Cabrita Reis at Bonn Museum and for a Francis Bacon exhibition at the Serralves Museum, as well as for non-conventional spaces. He teaches regularly in Portugal and abroad.

Susanne Martin is a Berlin-based choreographer, performer, researcher, and teacher in the field of contemporary dance. She presents her work internationally in solo performances and collaborative stage works. Her artistic practice and research focus on improvisation as choreographic practice, critical narrations of the age(ing) body, contact improvisation, artistic research methods, and improvisation-based approaches to learning, knowledge production and knowledge dissemination. Festivals that presented her performances include: International Dance and Theatre Festival (Gothenburg), Aerowaves (London), Nottdance (Nottingham), Opera Estate (Bassano del Grappa), Tanec Praha (Prague). Her PhD dissertation Dancing Age(ing): Rethinking Age(ing) through Improvisation Practice and Performance was published 2017. In her current postdoctoral research at the École Polytechnique Fédérale de Lausanne (EPFL) she examines dance improvisation in its potential to rethink and advance processes of learning and researching in a technical university. www.susannemartin.de
Brochure - Alkantara Festival 2021 at São Luiz Teatro Municipal
Related articles:
---
19.11 - 21.11.2021
Ageless Dance
New skills
Workshops for professional dancers
FRI 19.11.2021 10:00 AM
SAT 20.11.2021 10:00 AM
SUN 21.11.2021 10:00 AM
---
Ageless Dance
Performances
Talks
Research
Ageless Dance
Ageless Dance
Performances
Talks
Research
---