Rugilė Barzdžiukaitė, Vaiva Grainytė, and Lina Lapelytė
Sun & Sea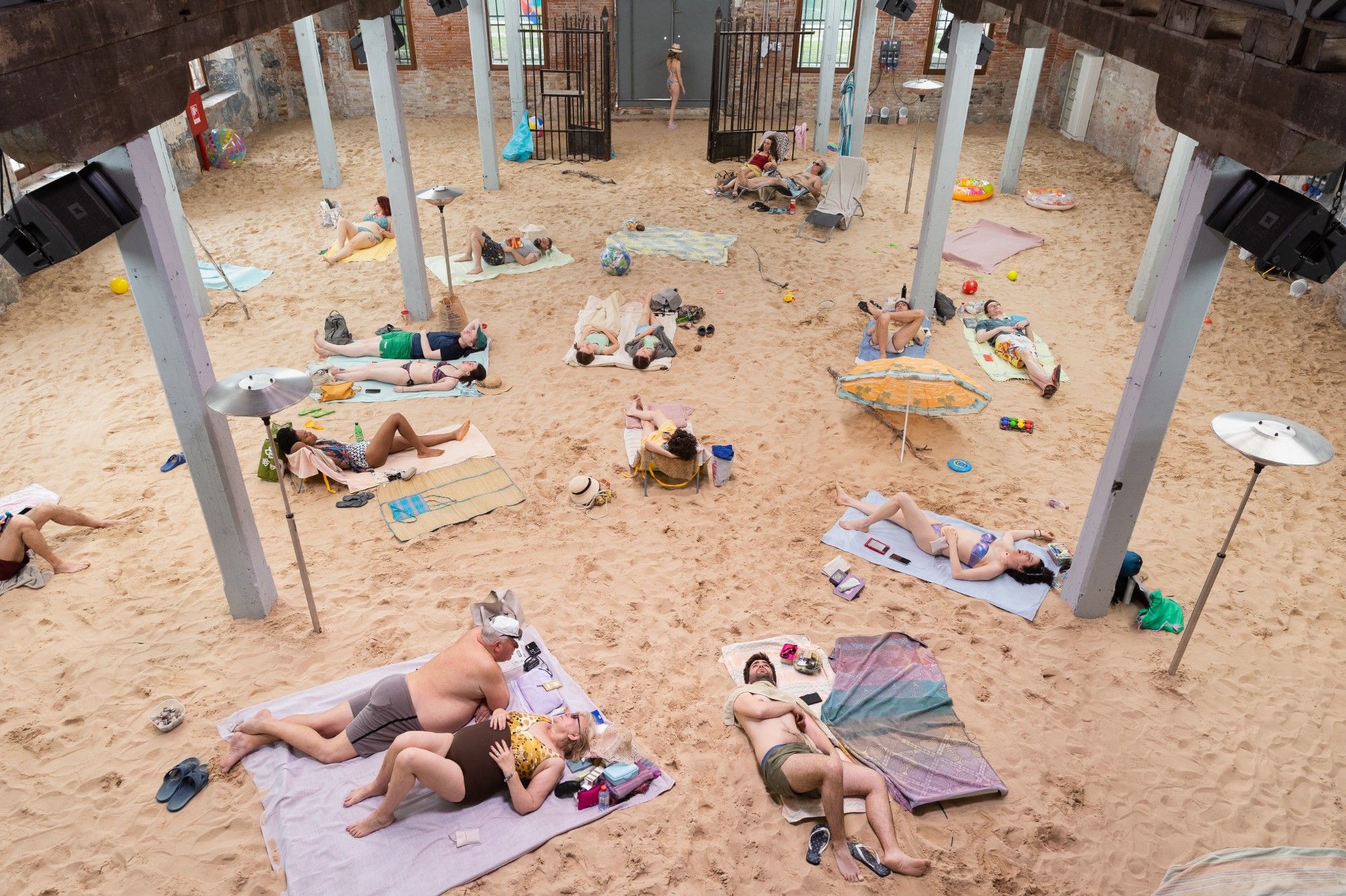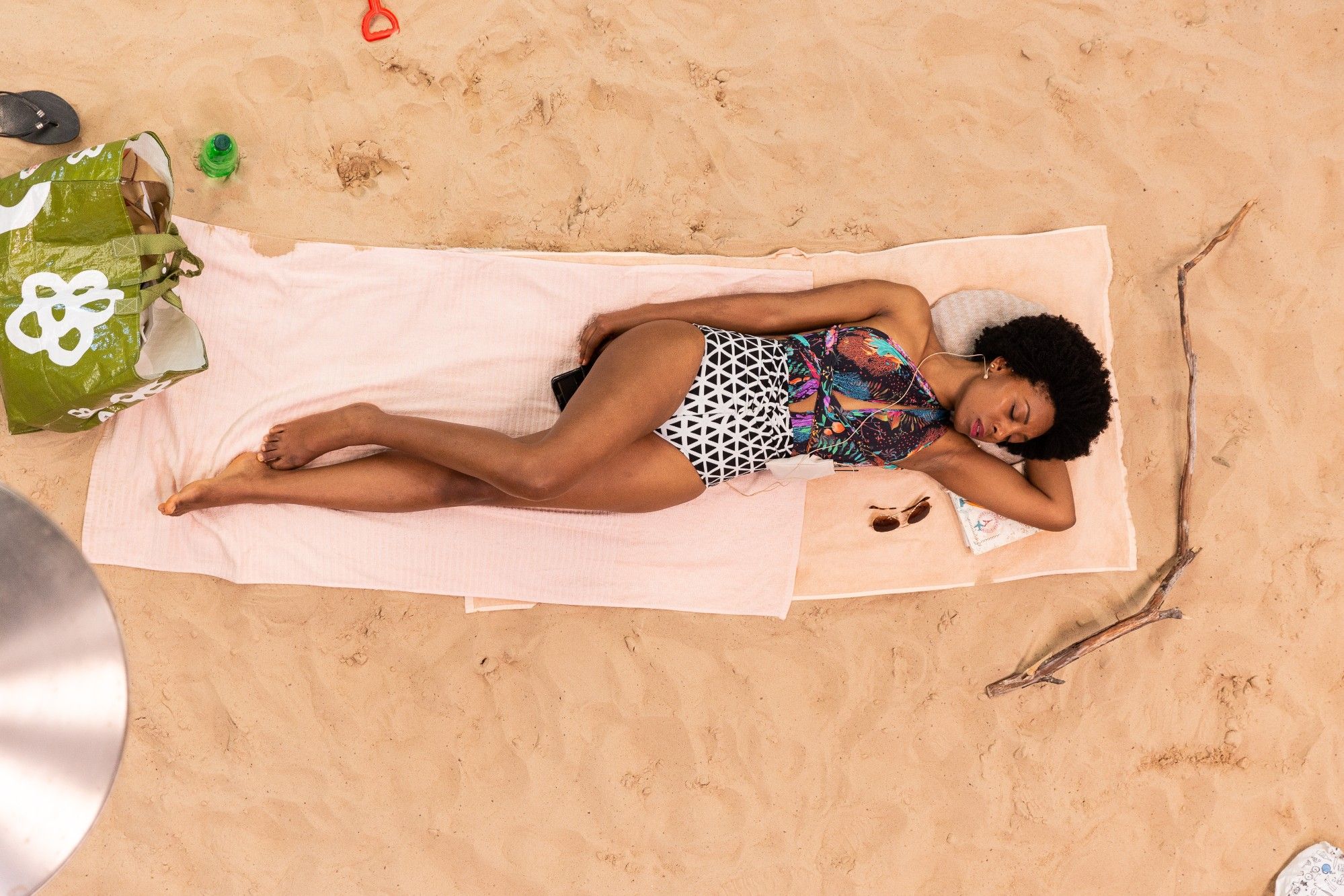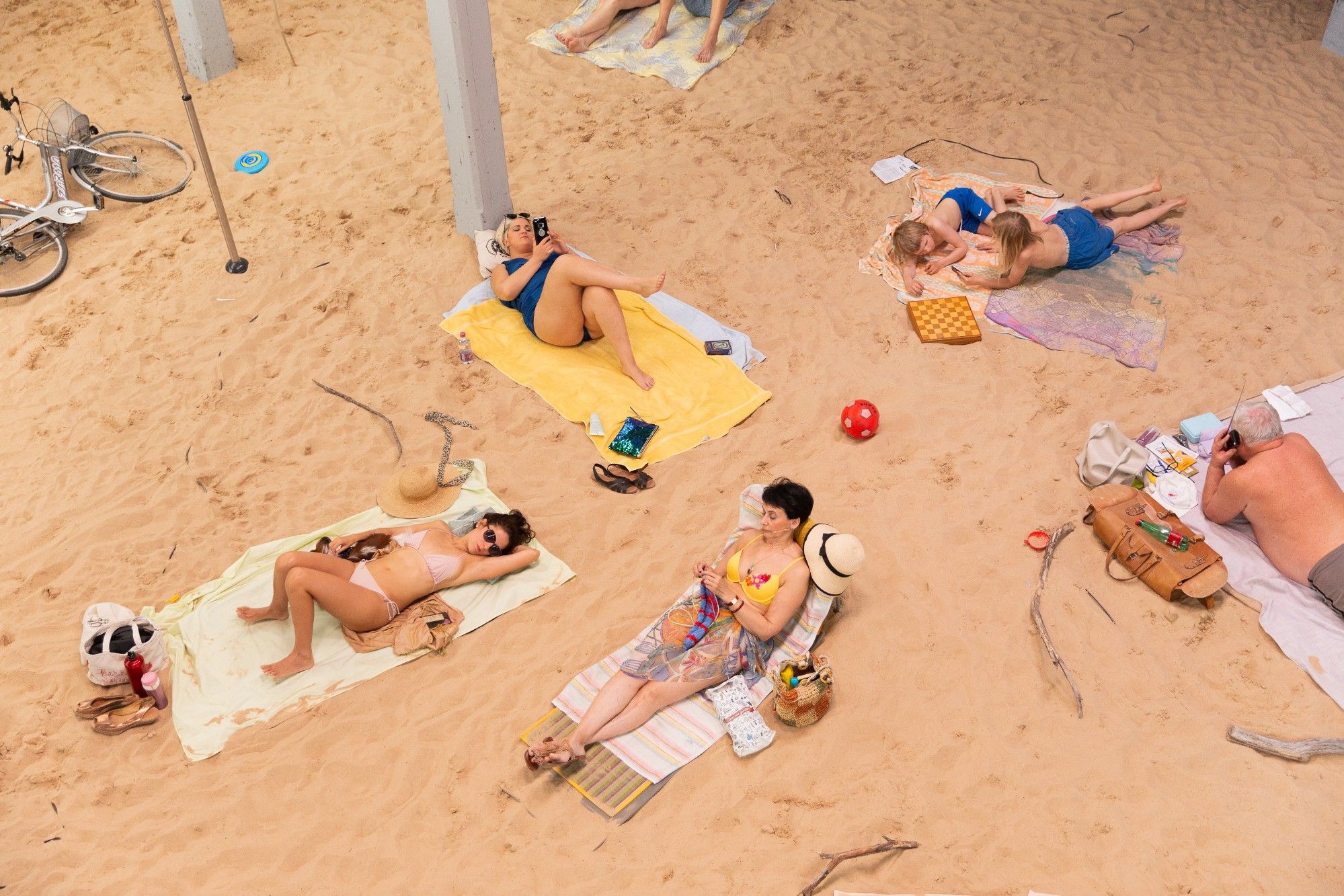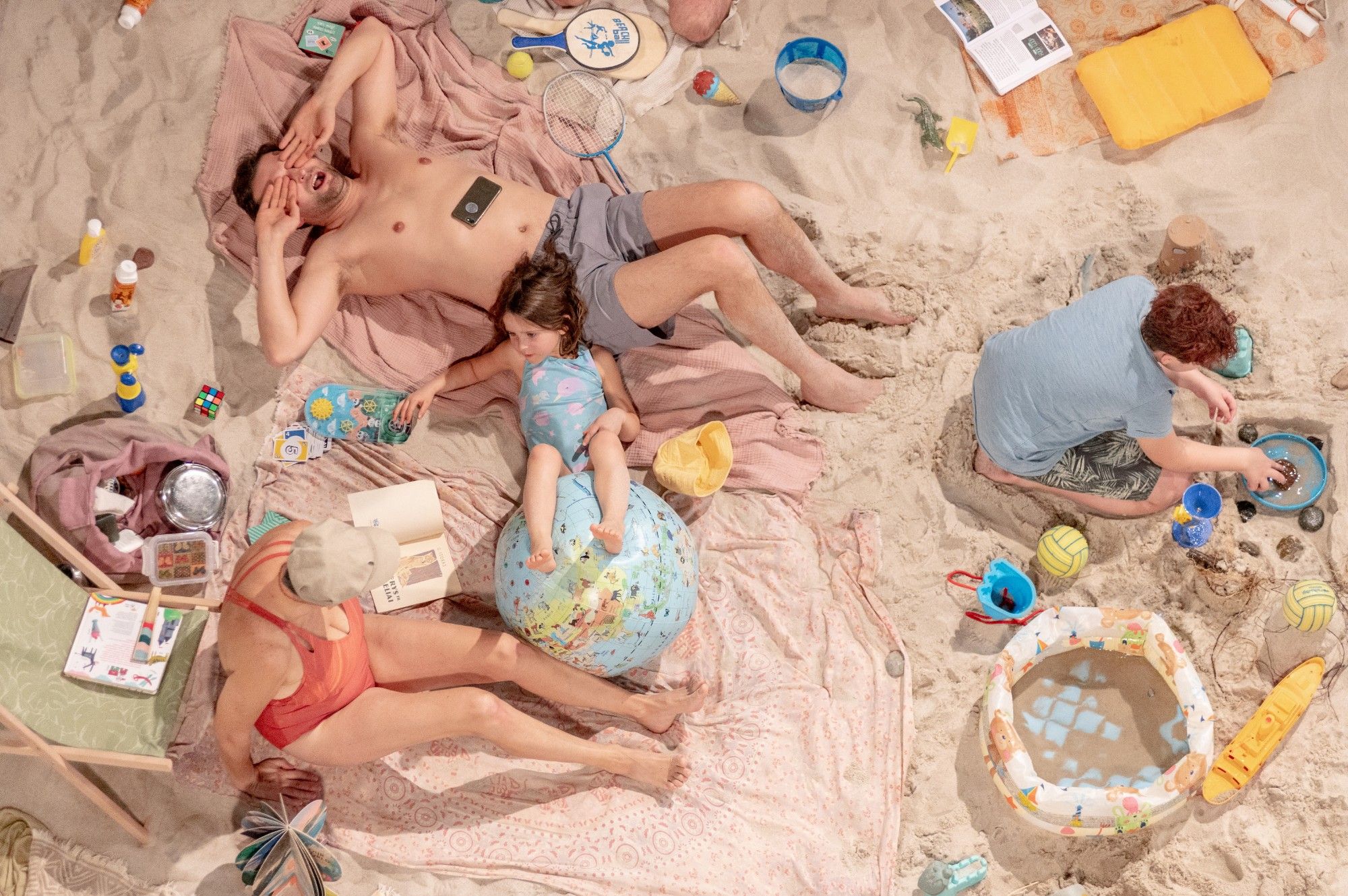 In English, with libretto available in English and Portuguese
A sunny afternoon on the beach. Out of the apparent serenity of holidaymakers relaxing on the sand emerges the anxiety provoked by the climate crisis.
From a scaffolding above the stage, we watch an opera on the beach: sunbathing holidaymakers, a mosaic of towels, bright bathing suits, parasols with palm trees on them, children and plastic toys. Amid laughter and banal conversations, a chorus of songs — about the preoccupations and tedium of daily life, about nothing in particular — gradually reveal the discomfort and anxiety provoked by climate breakdown.

This opera performance has been internationally acclaimed as a humorous, timeless and powerful depiction of how we relate to our planet and the consequences of its ongoing environmental collapse.

Winner of the Golden Lion at the 2019 Venice Biennale, Sun & Sea marks the return to Lisbon of the Lithuanian artists Rugilė Barzdžiukaitė, Vaiva Grainytė and Lina Lapelytė, who in 2017 presented Have A Nice Day at Teatro Maria Matos.
Accessibility Information
No seats are assigned.

The audience will watch the show standing up from a a scaffolding structure. The structure is 3 meters hig. Access is by stairs only. People with reduced mobility can watch the show from the ground level (which will be the beach level).

The show is not recommended for people with labyrinthitis or chronic vertigo.
Credits
Concept and development Rugilė Barzdžiukaitė, Vaiva Grainytė, and Lina Lapelytė Director and set designer Rugilė Barzdžiukaitė Lyrics Vaiva Grainytė Composer and music director Lina Lapelytė Curator Lucia Pietroiusti Tour producer Aušra Simanavičiūtė Production manager / Stage manager Erika Urbelevič Technical director Lique Van Gerven Libretto translation (from Lithuanian to English) Rimas Užgiris Sound engineer Romuald Chaloin Galiauskas Singing performers Aliona Alymova, Evaldas Alekna, Svetlana Bagdonaitė, Marco Cisco, Sebastian de la Cour, Nabila Dandara, Auksė Dovydėnaitė, Saulė Dovydėnaitė, Daniel Monteagudo Garcia, Claudia Graziadei, Eglė Paškevičienė, Lucas Lopes Pereira, Kalliopi Petrou, Lukas Vaičiūnas Performers Raminta Barzdžiukienė, Ilona Grainienė, Gabrielius Klimas, Vincentas Korba, Jonas Statkevičius, and others Extras Ana Francisca Amaral, Julieta Pessoa Amaral Pires, Lola Marquez Teixeira Gomes, Nina Botkay, Meiga, Guilherme Carravetta De Carli, Luan Okun e Fayska Choir Nuno Uamusse, Celise Manuel, Isabel Novella, Bárbara WahnonVisual identity Goda Budvytytė Livreto Translation Nuno Ventura BarbosaProduced by Sun&Sea (Lithuania)
Founding Producer Neon Realism (Lithuania) Co-producers Nida Art Colony of Vilnius Academy of Arts, Akademie Schloss Solitude Goethe-Institut, Münchner Kammerspiele, National Gallery of Art in Vilnius, Staatsschauspiel Dresden, The Momentary, Arkansas Sponsor JCDecaux

Funded by Lithuanian Culture Council
Presented by Alkantara Festival, Centro de Arte Moderna (CAM) - Fundação Calouste Gulbenkian and Culturgest, in partnership with Teatro Municipal do Porto.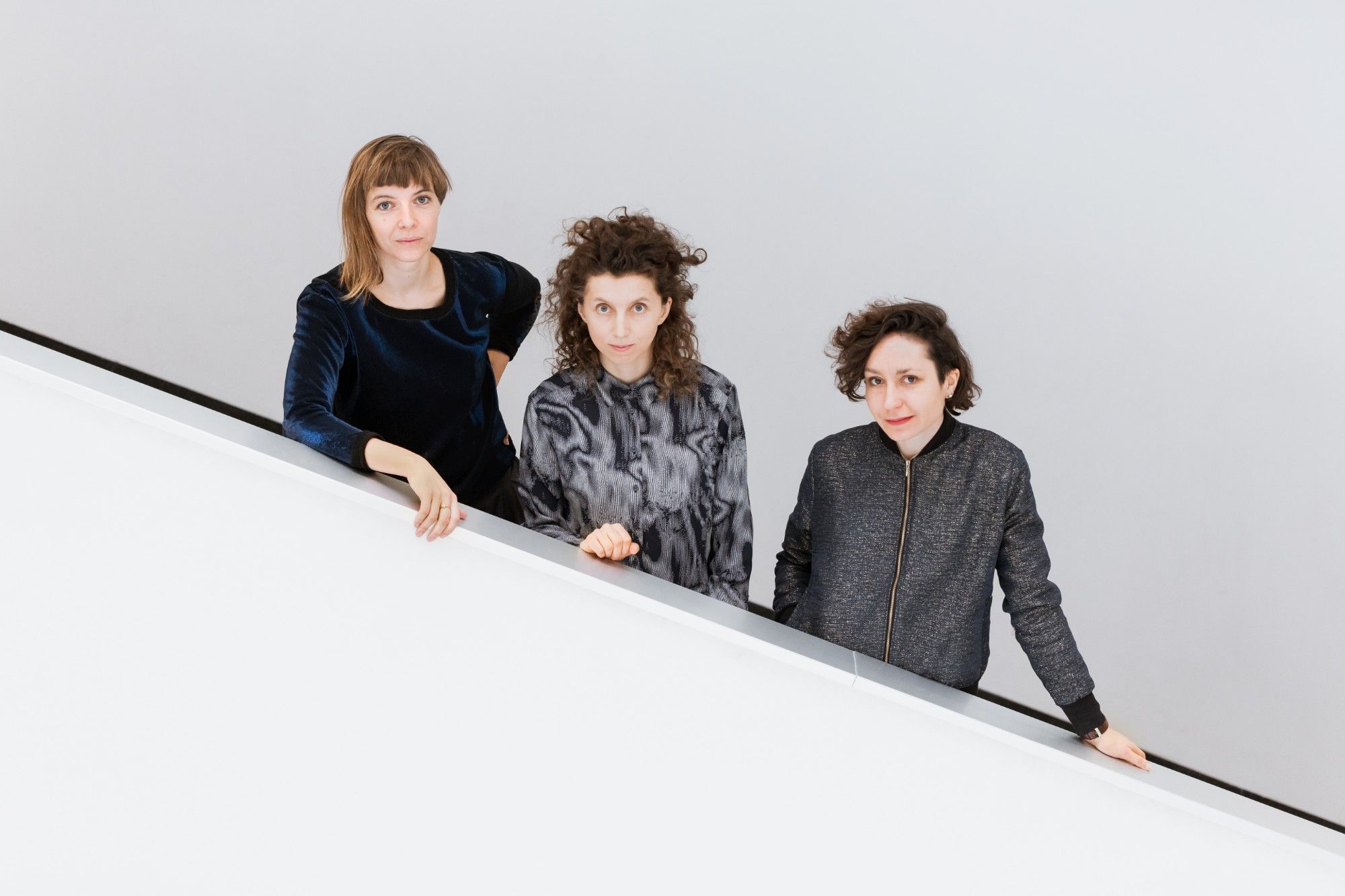 Rugilė Barzdžiukaitė, Vaiva Grainytė e Lina Lapelytė
Rugilė Barzdžiukaitė (b.1983, based in Vilnius) works as a filmmaker, theatre director and visual artist. In her creative practice, Barzdžiukaitė explores the gap between objective and imagined realities, while challenging an anthropocentric way of thinking in a playful way. Her recent full-length documentary film-essay Acid Forest was awarded at the Locarno International Film Festival among others, was shown at the National Gallery of Art in Washington, Lincoln Center in NYC, American Film Institute festival in LA and many other events and venues for cinema...