Natural Contract Lab
Intertidal Walk - Immersive River Walk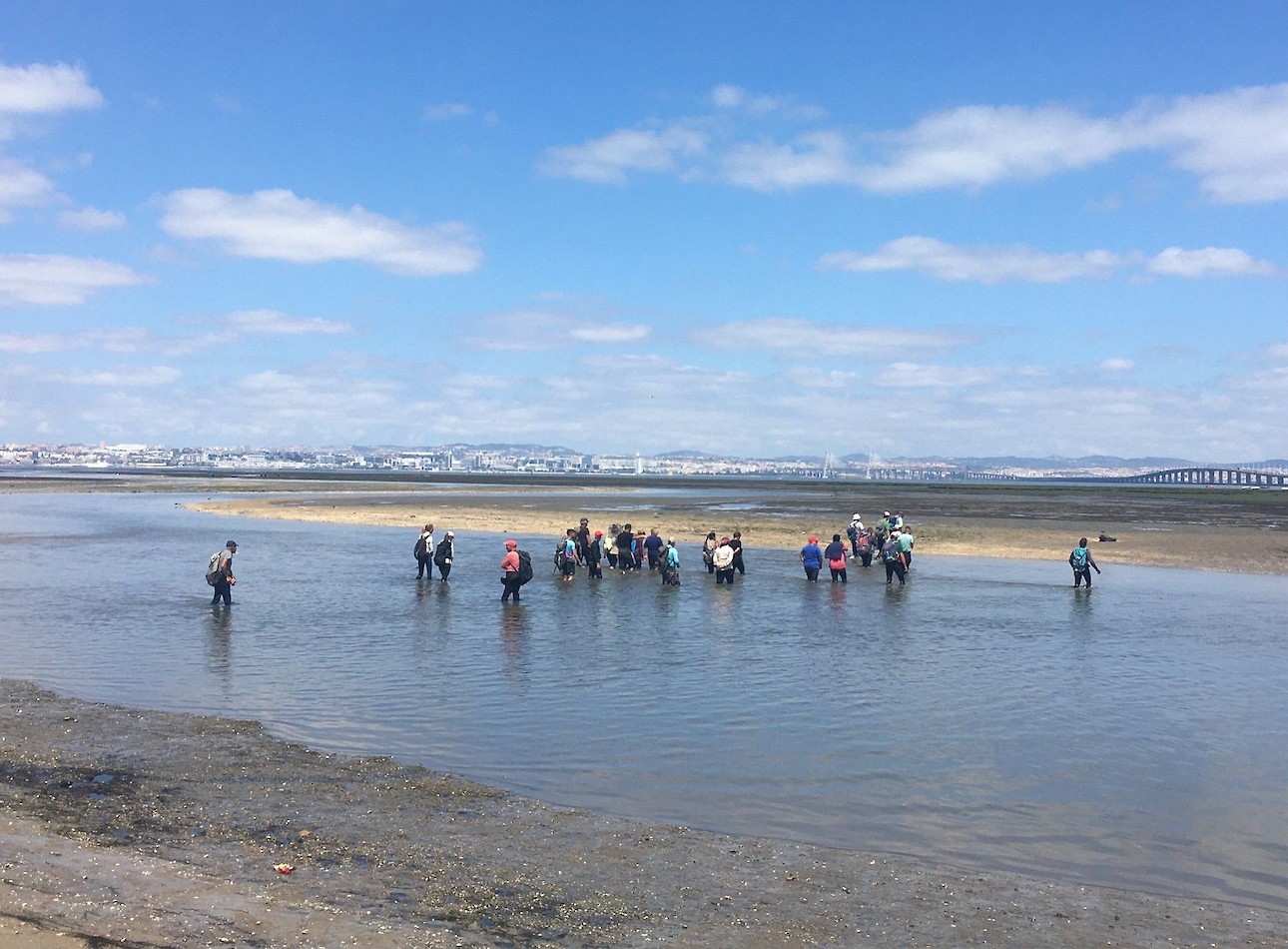 Meeting point on nov 12 at 8.45AM, at the entrance of the Terminal Fluvial do Cais do Sodré
Intertidal Walk is a collective two-day walk along the Southbank of the Tejo river, where riverine ecosystems are mapped and sensorially engaged, through collective gestures of reciprocal care in conversation with local communities.
Stretching from Montijo Bay towards the Tejo Estuary Nature Reserve, this riverine walk invites participants to take part in a process of regenerative activism developed in conversation with local river guardians, who have been protecting the river against ongoing and future environmental crimes. Walking with the river, we will engage with the riverine ecosystems by using mapping tools, exercises of attunement, healing rituals, while sharing conversations, grief circles and river food-based collective meals.

In this river walk we become witnessing bodies that listen to the ecosystem that surrounds us. As we walk, we experience a process of alignment and synchronisation with the watery elements that move within and around us. To walk by the river can be a process of reciprocal care that allows us to connect to the surrounding landscape and infrastructure, as we come closer to ancestral waters, and begin to acknowledge the relationship we share with the river and the ways in which we nurture it through our actions.

The walk will have the duration of two consecutive days. We will walk from Montijo bay, along the military airforce base road, via Samouco beach, crossing the salt pits, ending at the Tejo Estuary Nature Reserve. Meals and overnight stay in Alcochete will be provided for all participants, as well as return to Lisbon.
NATURAL CONTRACT LAB
NCL was founded in 2020 by the artist Maria Lucia Cruz Correia in collaboration with a multidisciplinary group, including Marine Calmet (rights of nature), Brunilda Pali (restorative justice), Lode Vranken (design/philosophy), Vinny Jones (sensory scenography), Evanne Nowak (ecological grief). With the confluence of the Tejo River Margarida Mendes (research/sonic guidance) joined the collective in 2021. Together we develop a body of care, researching forms of environmental justice through practices of reciprocal care, such as walking-with the river, performative rituals, ecocide hearings, restorative justice and ecological grief circles, somatic and audio scores and other actions that move along with the riverine flow and its communities.

Intertidal Walk for Alkantara Festival 2022 is activated by Maria Lucia Cruz Correia, Vinny Jones and Margarida Mendes.
Credits
Natural Contract Lab is co-produced by Kunstencentrum Vooruit (BE), NTGent (BE), Workspacebrussels (BE), Dream City (TN), and C-takt (BE) / Supported by Flemish Authorities and BE PART (EU) / Produced by wpZimmer (BE) / Research supported by the Institute of Criminology (BE), Wild Legal (FR), Human Rights Consortium UGent (BE), and European Forum for Restorative Justice (EFRJ).

Intertidal Walk for Alkantara Festival 2022 is activated by Maria Lucia Cruz Correia, Vinny Jones and Margarida Mendes. Intertidal Walk is commissioned by Alkantara with the support of Calouste Gulbenkian Foundation and Alcochete Municipality.

Tagus River research was supported by Terra Batida and Garantir Cultura in 2021. Rhone River supported by Least (CH). Sebkha Sijoumi supported by Dream City (TN).