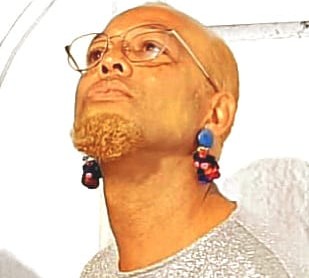 antonyo omolu
Hybrid artist who navigates through the waters of theatrical anthropology and who, as a practical-reflexive-theoretical researcher in this practice, introduces himself as an actor-dancer – a definition coined by Eugênio Barba to delineate the profile of the artist who investigates and practices the pre-expressive behaviour of the human being in a situation of organized representation: in Brazil he has experience in contemporary dance, theatre, Afro-Brazilian dance (dance of the orixás), scenic groups from Afro-Brazilian popular culture, such as the congada from Minas Gerais, and samba schools; and in Portugal, in two expressions of the scenic-musical culture of Cape Verde: batuko and the kola son jon.
His experience and activities in these arts includes performance, direction, production and education in projects both personal-solo and collective.
The hybridism in his artistic training sits in dialogue with ethnic training involving Indigenous, African and Portuguese people. His practice takes in black scenes in movement, afroqueer bodies, afro-atlantic artivism, dialogues and productions of territorial sensibilities, and decentralisation and decolonisation of artistic work.